The partner of George Michael has described the late singer as "a beautiful person" and says he wants the music icon to be remembered that way.
Fadi Fawaz found Michael dead in bed after calling to his home on Christmas Day. It is believed the 53-year-old star died from heart failure.
"I went round there to wake him up and he was just gone, lying peacefully in bed," Fawaz told British newspaper The Daily Telegraph. "We don't know what happened yet."
ITs a xmas i will never forget finding your partner dead peacefully in bed first thing in the morning.. I will never stop missing you xx

— Fadi Fawaz (@fadifawaz) December 26, 2016
Fawaz said "everything had been very complicated recently" but did not elaborate. He added that Michael was looking forward to Christmas.
"Now everything is ruined," he said. "I want people to remember him the way he was - he was a beautiful person."
Michael's former partner of over a decade, Kenny Goss, said he was heartbroken to learn of the death of his "dear friend and long-time love".
"He was a major part of my life and I loved him very, very much. He was an extremely kind and generous man," Goss continued.
"The beautiful memories and music he brought to the world will always be an important part of my life and those who also loved and admired him."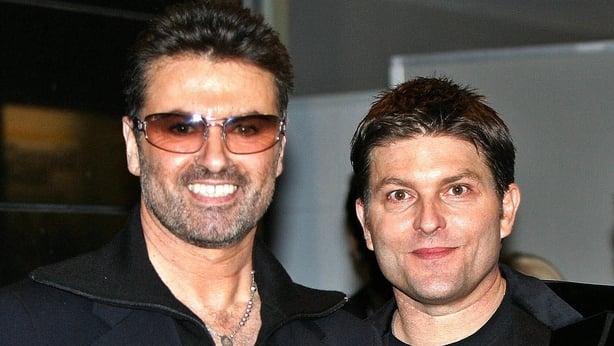 Michael - whose real name was Georgios Kyriacos Panayiotou - sold more than 100 million albums throughout a career spanning almost four decades, first rising to fame as part of pop duo Wham! before becoming a solo artist.
He had been set to release a documentary in 2017 and was recently reported to be working with producer Naughty Boy on a new album. His passing follows a long list of high profile celebrity deaths including David Bowie, Prince and Leonard Cohen.
Michael's former Wham! bandmate Andrew Ridgeley was among those leading the tributes, describing himself as "heartbroken at the loss" of his friend, "the finest singer/songwriter of his generation".
#GM had a voice that would transport u, he was the finest singer/songwriter of his generation & has left the best of himself 4 us. RIP GM xx pic.twitter.com/Gjcp55Chei

— Andrew Ridgeley (@ajridgeley) December 26, 2016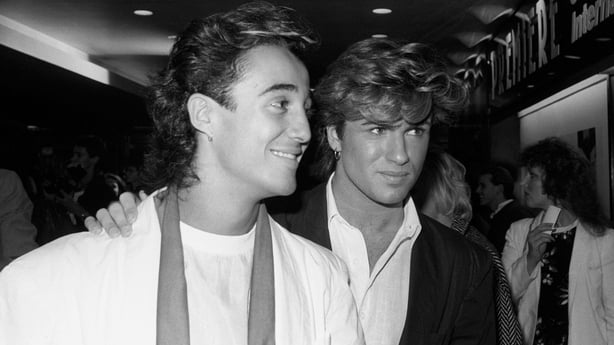 Many of the tributes have drawn attention to Michael's generosity and previously unpublicised donations to charities and individuals. He was a longtime financialsupporter of British HIV charity the Terrence Higgins Trust, having lost his former partner Anselmo Feleppa to an AIDS-related illness in 1993.
"George also often thought of us to kindly donate experiences and gifts that were used to raise vital funds to help us support people living with HIV," said the organisation's Jane Barron. "Along with other charities, we were grateful to benefit from the royalties of George's 1991 duet with Elton John, Don't Let the Sun Go Down on Me."
There are lots of stories about #GeorgeMichael 's legendary generosity emerging today. When I swam the channel he gave @sportrelief £50,000.

— David Walliams (@davidwalliams) December 26, 2016
A woman on 'Deal Or No Deal' told us she needed £15k for IVF treatment. George Michael secretly phoned the next day and gave her the £15k.

— Richard Osman (@richardosman) December 26, 2016
I wrote in a piece ages ago about a celeb I'd worked with tipping a barmaid £5k because she was a student nurse in debt. Was George Michael.

— Sali Hughes (@salihughes) December 26, 2016
UK Childline founder and president Esther Rantzen revealed that Michael had given "millions" to the charity through the royalties from his 1996 number one single Jesus to a Child.
"For years now he has been the most extraordinarily generous philanthropist, giving money to Childline, but he was determined not to make his generosity public so no-one outside the charity knew how much he gave to the nation's most vulnerable children," she said.
It was also revealed that Michael had volunteered at a homeless shelter and had asked for his involvement to be kept private.
George Michael worked anonymously at a homeless shelter I was volunteering at. I've never told anyone, he asked we didn't. That's who he was

— EMILYNE MONDO (@EmilyneMondo) December 26, 2016
Among the many friends paying tribute was Elton John, who took to Instagram to share his "deep shock" at the news of Michael's death. "I have lost a beloved friend - the kindest, most generous soul and a brilliant artist," he wrote.
Madonna posted an old video of her introducing Michael to the stage at an awards ceremony saying, "Farewell my friend! Another great artist leaves us. Can 2016 f*** off now?"
In a tribute on his website, Paul McCartney wrote: "George Michael's sweet soul music will live on even after his sudden death. Having worked with him on a number of occasions his great talent always shone through and his self-deprecating sense of humour made the experience even more pleasurable."
Presenter James Corden took to Twitter to share his sadness at the news, hailing Michael as an "absolute inspiration" and someone who was "always ahead of his time".
Michael was the first celebrity to take part in Corden's now-infamous Carpool Karaoke sketch, with the duo driving around together for Comic Relief in 2011.
Check out Michael driving around with Corden's Gavin & Stacey character Smithy here (Contains some language of an adult nature):
As people reflected on Michael's life and work, Vogue magazine re-posted a recent tribute they produced for the 26th anniversary of his anthem Freedom! '90.
The original music video saw supermodels of the time Naomi Campbell, Linda Evangelista, Christy Turlington and Cindy Crawford lip-syncing along to Michael's vocals.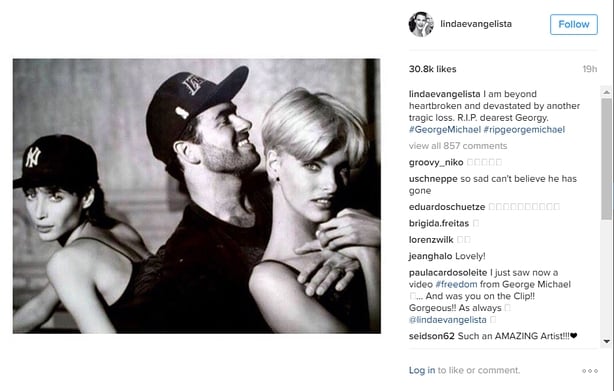 To mark the anniversary of the iconic video, Vogue gathered a selection of the new generation of supermodels, including Adriana Lima, Taylor Hill and Irina Shayk for a modern remake.
A selection of the many tributes:
Heartbroken at the loss of my beloved friend Yog. Me, his loved ones, his friends, the world of music, the world at large. 4ever loved. A xx https://t.co/OlGTm4D9O6

— Andrew Ridgeley (@ajridgeley) December 26, 2016
God bless George Michael peace and love to all his friends and family 😎✌️🌟💖

— #RingoStarr (@ringostarrmusic) December 26, 2016
What a strange sad end to our CHRISTMAS DAY. RIP George Michael on Graham Norton 2003 (Part 3/3) https://t.co/Tjy4nuGGa6 via @YouTube

— graham norton (@grahnort) December 26, 2016
I've loved George Michael for as long as I can remember. He was an absolute inspiration. Always ahead of his time.

— James Corden (@JKCorden) December 25, 2016
George Michael was a kind and gentle soul. #Wham

— Ryan Reynolds (@VancityReynolds) December 26, 2016
Such sad news about George Michael. #RIPGeorge

— Louis Tomlinson (@InvisibleLT) December 26, 2016
Woke up to the news about George Michael. Such a sad end to a relentlessly difficult year. Thoughts with his family. RIP

— Les Dennis (@LesDennis) December 26, 2016
This year has just been too much.....RIP George Michael xxxx

— Guy Pearce (@TheGuyPearce) December 26, 2016
So sorry to hear about George Michael's passing. Brilliant icon. "Kissing a Fool" one of my all time favs. Strength & light to his family.

— Dwayne Johnson (@TheRock) December 26, 2016
This Christmas is beautiful yet sad as I remember @GeorgeMichael and his amazing talent and the beauty he created with songs.

— Tyra Banks (@tyrabanks) December 26, 2016
Had the pleasure of knowing George Michael in the 80s. Voice of an angel. Now he can sing for them.

— Rob Lowe (@RobLowe) December 26, 2016
#mycondolences to the family and loved ones, you will never know how many lives you touched with your soulful voice https://t.co/kpeD33paJE pic.twitter.com/XVNeRr26VF

— Naomi Campbell (@NaomiCampbell) December 26, 2016