Bob Dylan has expressed awe at receiving the Nobel Prize for literature and thanked the Swedish Academy for including him among the "giants" of writing.
Dylan, who is due to play Dublin in May next year, was absent from the award ceremony and banquet in Stockholm, but in remarks read by the US ambassador, he alluded to the debate about whether the award should go to a songwriter.
He said that when Shakespeare wrote Hamlet, he was probably thinking about which actors to pick and where to find a skull, reports the Press Association.
"I'm sure the farthest thing from Shakespeare's mind was, 'Is this literature?'" the 75-year-old singer said.
Dylan said he too focuses on "mundane matters" such as recording in the right key, not on whether his songs are literature. He thanked the academy for considering the question and "providing such a wonderful answer".
Earlier, singer Patti Smith needed two attempts to get through Dylan's A Hard Rain's A-Gonna Fall at the ceremony.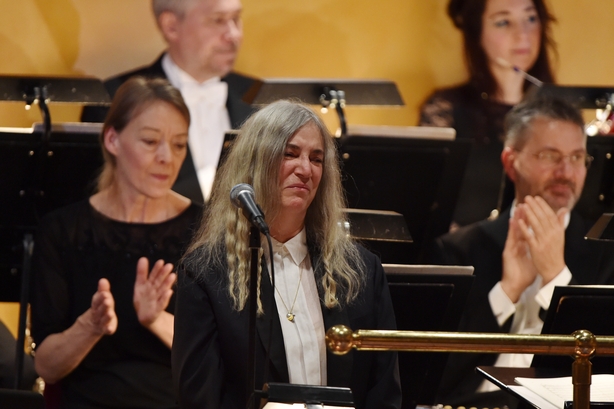 Patti Smith performing at Saturday's Nobel Prize ceremony in Stockholm
The 69-year-old singer-songwriter forgot the lyrics in the second verse and had to pause to regain her composure.
"I apologise. I'm sorry, I'm so nervous," Smith said, asking the orchestra to start again.
The audience at Stockholm's Concert Hall, many dressed in formal attire, clapped to support Smith as she tried again.
She appeared to draw a blank again in the third verse, but only briefly, and then finished the song.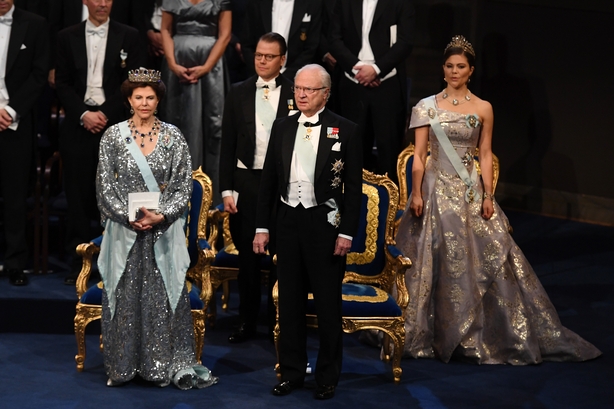 Members of the Swedish royal family pictured at the ceremony
Her performance was to mark Dylan's Nobel Prize. His failure to attend meant that Smith, most famous for her 1975 album Horses and the hit song Because the Night, was attending as his proxy.
The award, announced in October, was the first to be given to a songwriter. Dylan took two weeks to publicly acknowledge the award - which comes with prize money of 870,000 US dollars (€823,820) - leading to one member calling him "impolite and arrogant".
Dylan wrote to the academy last month to say he had been left "speechless" by the honour, but that other commitments had made it "unfortunately impossible" for him to attend the ceremony.