Nobel Prize winner Bob Dylan was born Robert Allen Zimmerman and began his career playing in coffee houses in his native Minnesota. He later played in folk clubs in New York City where he said The Clancy Brothers were among the acts who influenced him.
In the 1960s, songs like Blowin' in the Wind and The Times They are a Changin' became anthems for American Civil Rights and Anti War movements.
Come writers and critics

Who prophesise with your pen

And keep your eyes wide

The chance won't come again

from: The Times They Are A-Changin'
Dylan's lyrics incorporate political, social, philosophical and literary influences and he has worked with musical genres including folk, blues, country, rock and roll and gospel. As a musician, Dylan has sold more than 100 million records, making him one of the best selling artists of all time.
His numerous awards including eleven Grammys, a Golden Globe award and an Oscar for his song, Things Have Changed from the movie Wonder Boys. Until now the only other person to have won both an Oscar and a Nobel Prize for Literature was Irish playwright George Bernard Shaw.
Now all the criminals in their coats and their ties

Are free to drink martinis and watch the sun rise

While Rubin sits like Buddha in a 10-foot cell

An innocent man in a living hell

That's the story of the Hurricane

from: Hurricane
Dylan has also been inducted into the Rock and Roll Hall of Fame and the Songwriters Hall of Fame and in 2012 he received the Presidential Medal of Freedom - the United States highest civilian honour - from President Barack Obama.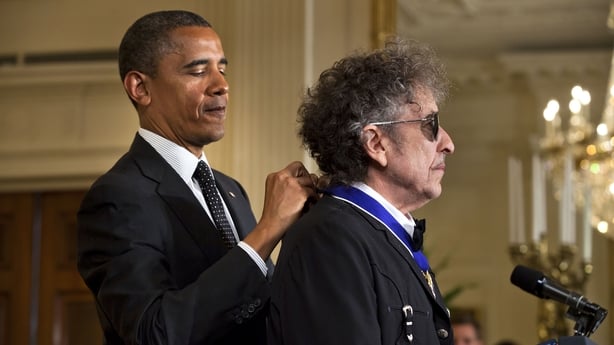 He is a regular visitor to Ireland and has played many concerts here, including a headline gig at Slane Castle in 1984. The night before that show, the local village became the scene of mob violence.
When gig-goers arrived the day before, they rampaged through the Slane village, setting fire to three cars and attacking the local Garda station, injuring twelve Gardaí.
Two young men also drowned in the River Boyne. On stage, Dylan played for over two hours, bringing out Carlos Santana, Van Morrison and Bono, who was living in the castle at the time as U2 recorded The Unforgettable Fire there.
We need your consent to load this YouTube contentWe use YouTube to manage extra content that can set cookies on your device and collect data about your activity. Please review their details and accept them to load the content.Manage Preferences
In recent years, 75-year-old Dylan has enjoyed a late-career rebirth with the release of acclaimed albums, including Love and Theft, Modern Times and his recent Frank Sinatra covers albums Shadows in The Night and this year's Fallen Angels.