An always entertaining look back in languor at Oasis' extraordinary rise from council estate poverty to Britrock royalty
"I want the severed head of Phil Collins in my fridge by the end of the decade. If I don't have it, I'm a failure." Thus spake Noel Gallagher in the early nineties, setting out an admirable mission plan which echoed the punk rallying cry of a generation earlier.
Gallagher Sr was always great value as a rock `n' roll raconteur. Sure, the quotes were often better than the actual music but he and his brother Liam do not disappoint in Supersonic, the new and "definitive Oasis documentary" from Mat Whitecross, director of the great Ian Dury biopic Sex & Drugs & Rock & Roll.
The warring Gallagher brothers have both recorded new interviews (naturally conducted separately) for this entertaining rock doc, a full 25 years after the events covered here and these new insights and recollections may be the main point of interest for both hardcore fans and students of the Britrock era.
We need your consent to load this YouTube contentWe use YouTube to manage extra content that can set cookies on your device and collect data about your activity. Please review their details and accept them to load the content.Manage Preferences
Noel never quite got Mr Collins' bonce in his freezer compartment but Oasis did rocket from Burnage poverty to the stage of Knebworth in 1996 with extraordinary speed and style. The story of their rise is the stuff of rock `n' roll legend and Supersonic is, in many ways, a real-life version of Ray Connolly's cautionary rock `n' roll tale from 1973, That'll Be The Day.
The film is very much in the style of Asif Kapadia's (who executive produced Supersonic) Amy, only this is a comedy compared to that still heartbreaking story of decline. We get is quite a lot of shaky home video footage of Oasis' beginnings which only the inner circle might have glimpsed before and much insight into the brothers' upbringing in Manchester.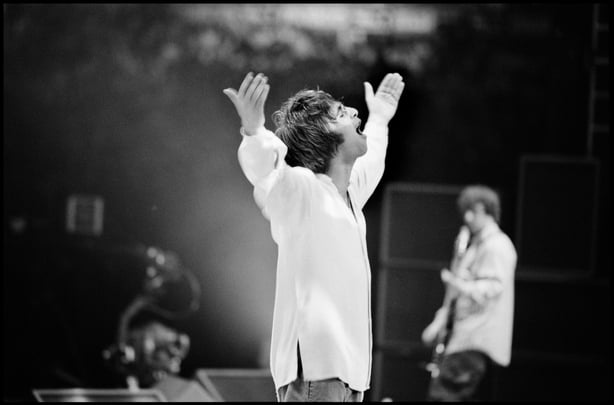 Liam greets his people at Knebworth
We see a young and gorgeous Liam doing a killer Boyzone impression in Oasis' Top of The Pops dressing room as Ronan Keating and co pinch themselves next door and we see even shakier footage of the brothers in Dublin's one-time premiere rock `n' roll watering hole, Yesterday's Bar in Bloom's Hotel, encountering their estranged father Tommy. He turns up with a reporter from the News of The World and it's all very like Mitch Winehouse's opportunistic visit to his daughter's St Barts' bolthole in Amy.
And as with Amy, there are no talking heads in Supersonic. In particular, it is a delight to hear the Mayo accent of ever-patient matriarch Peggy Gallagher lovingly chide her boys twenty years later as she speaks over footage of brawls and rock `n' roll excess. Looking back in languor, Noel is jaundiced, wistful and very funny. Almost shockingly, Liam comes across as wise, hilarious, and articulate but everything he says is tinged with sadness.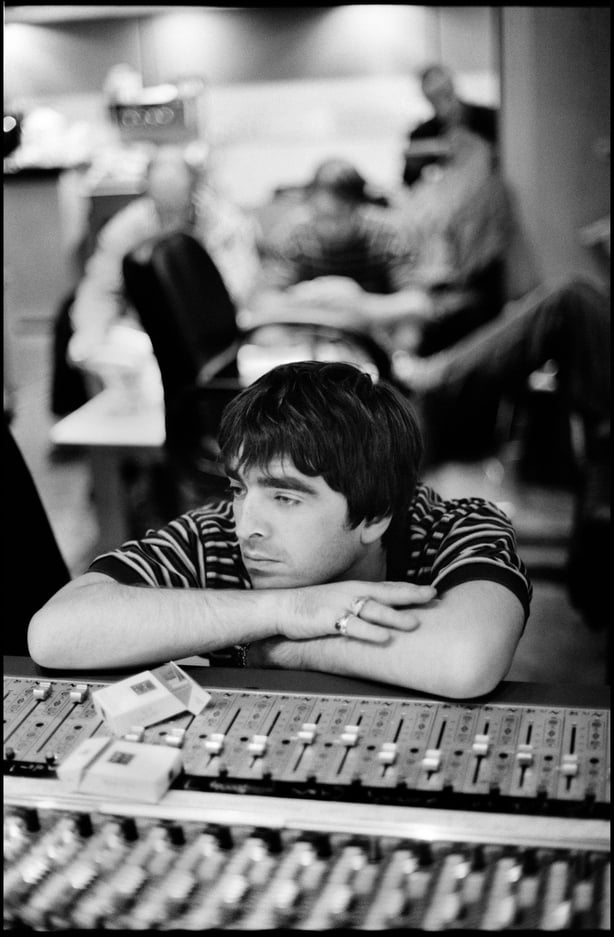 The master at work
Whitecross film begins and ends with exhilarating footage of those triumphant Knebworth shows. Over those two nights, Oasis become the toppermost of the poppermost and all within four extraordinary years of forming but as Larkin said of The Beatles (and this is the only Beatles/Oasis comparison that's ever been worth making), there was only one way to go after that.
Post-Knebworth, the people's band calcified into a self-congratulatory mess of dad rock acrimony and tabloid infamy. A better rock doc would have been the untold story of their slow, agonising demise.
Maybe Supersonic is a prelude to the inevitable band reunion and we will have to wait to see the Stardust side of the Oasis story.
Alan Corr @corralan