Brendan Gleeson has decried the government's arts policy at a time when Irish filmmakers, directors and musicians are enjoying huge success around the world.
Irish films, including Room, Brooklyn and Viva, enjoyed an unprecedented nine nominations at this year's Oscars, while Irish literature has entered a new golden age with acclaim for novels by Irish authors Eimear McBride, Lisa McInerney and others.
Gleeson appeared on The Marian Finucane on RTÉ Radio 1 on Saturday morning to talk about his role as the ambassador of the Irish Hospice Foundation's Ireland's Biggest Coffee Morning, which takes place this Thursday.
Asked what he thought of the government's much-criticised arts policy, the Dublin actor said, "I think they throw it around as an afterthought. What I love about the French is that they put art at the centre of their culture. We put art at the centre of our culture in some ways.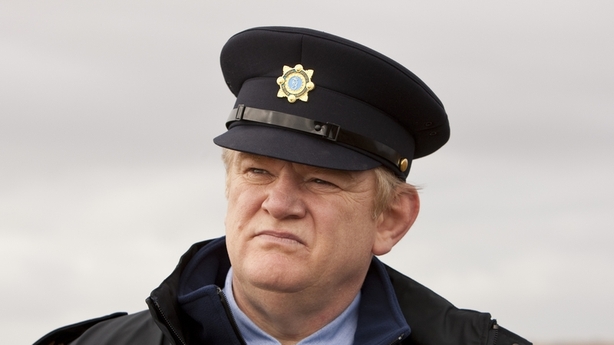 Gleeson in The Guard
"We have tea towels with Beckett and Joyce on them but we're mad keen about the arts when it doesn't cost anything. The French put their money where their mouth is because it's part of their identity.
"We do as well but it needs to be subsidised," Gleeson added. "As soon as you look for something to be subsidised, people say, `sure you could get ten hospital beds for that', which is a bogus argument of course.
"I think the arts should be part of the lifeblood of the nation. I think it is in the best Ireland that I know. Musicians, for example, live their lives in a way where art enriches it and it's a vital part of us so the government needs, instead of more or less apologising and saying `listen, we might throw you a few bob at the end of the day but if you'd say nothing about it and don't criticise . . . ' to do more."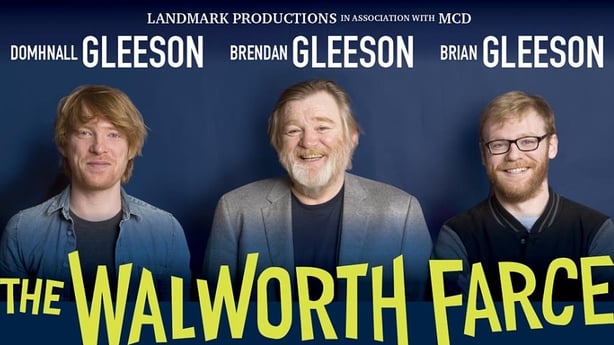 Gleeson appeared on stage with his sons last year
"I think as a population, if we start screaming as soon as someone gets funded for something that doesn't work and saying, `we wasted all that money on that stupid sculpture up the road and it's horrible!.'
"Instead, we should embrace it and see if it becomes popular in a while and allow the government to realise it's a popular thing and invest and see it is a vital thing. If we can get past food, and shelter and education, art has to be in the mix or our lives are dull."
Marian is joined by Brendan Gleeson who talks about the hospice. #Coffee4Hospice @Coffee4Hospice #marian pic.twitter.com/YcQ5ryiFfz

— Marian Finucane (@MarianRTE) September 10, 2016
Minister for Arts, Heritage, Regional, Rural and Gaeltacht Affairs, Heather Humphreys, has previously defended the government's attitude to the arts. Earlier this year, her department was renamed after criticism that the arts was being downgraded.
In the interview with Marian Finucane, Gleeson also talked about his attitude to Hollywood, the impact of Harry Potter films on his life, and his own children's work on the big screen. Listen to the full interview here.
Alan Corr @corralan