Titanic and Avatar director James Cameron has said that 2015 blockbuster Star Wars: The Force Awakens did not live up visually to the previous movies in the franchise.
Cameron, who began his career in visual effects and production design, is credited with revolutionising the sci-fi movie genre in The Terminator and Terminator 2: Judgement Day, Aliens, The Abyss and the aforementioned Avatar.
In a YouTube interview with student Hannah Litchfield, the Oscar winner said that George Lucas' original Star Wars was "the film that made me want to go actually do it".
He was then asked for his thoughts on last year's box office behemoth - and his answer was refreshingly candid.
"George Lucas is a friend of mine and he and I were having a good conversation the other day about it," said Cameron, who stressed that he had great respect for The Force Awakens director JJ Abrams and was keen to see where the series would go next.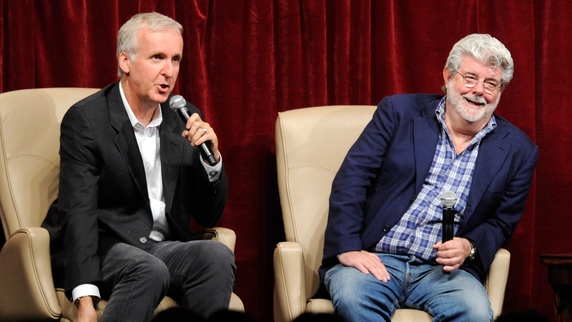 James Cameron and George Lucas at CinemaCon in Las Vegas in March 2011
"I have to say that I felt that George's group of six films had more innovative visual imagination, and this film was more of a retrenchment to things you had seen before, and characters you had seen before, and it took a few baby steps forward with new characters," he continued.

James Cameron's quotes about Star Wars: The Force Awakens begin at 3'15"
"So, for me, the jury's out. I want to see where they go with it."
Star Wars: Episode VIII will be released on December 15, 2017, with spin-off movie Rogue One: A Star Wars Story opening on December 16 this year.