A primary school in West Kerry got a special intergalactic visitor yesterday after one of the best known names from the Star Wars cast dropped in to say hello much to the delight of everyone.
Chewbacca made his surprise arrival at Scoil Baile an Fheirtearaigh in a blacked out SUV and was greeted with a rousing rendition of the Star Wars theme performed on traditional musical instruments by the pupils.
The 7ft plus Wookiee came straight from filming scenes for the upcoming Star Wars movie along the Dingle Peninusla.
The school principal Mairín Ní Chartúir said they only learned of the surprise visit on Friday last.
"We received a call from the production team asking could they pay a surprise visit to the kids on Monday. Of course we said yes and were told to not let anyone know about the visit", she said.
Chewbacca hugged and took photographs with the children, many of whom were armed with lightsabers, and answered questions put to him as gaeilge and bearla.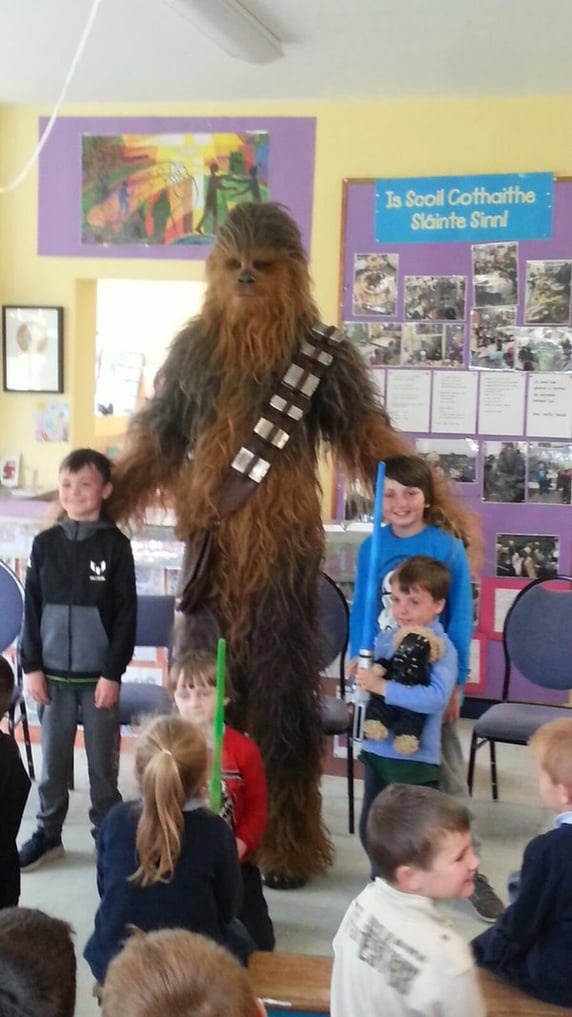 During the half-hour interrogation, a translator was provided to interpret his answers from Wookiee. One pupil remarked that the hirsute visitor looked like "a madra mór" although the gentle giant was said to have been "an-cairdiúil" after he doled out "a lán hugs".
It's believed that one of the enterprising students, Ruadhán Daly, and a classmate sent pictures and drawings to the film set, which then prompted the visit.
Filming for Star Wars Episode VIII along the Dingle Peninsula at locations on Ceann Sibéal and Slea Head is expected to wrap later today. 
Ireland has become a popular filming location for the world's favourite film franchise after the closing scenes of Star Wars: The Force Awakens were shot on the Skellig Islands off the Kerry coast.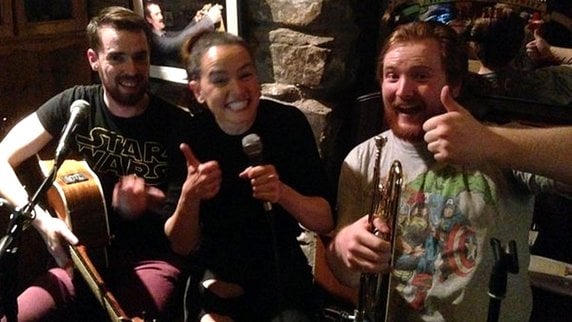 Recently the crew completed filming at Malin Head in Co Donegal and Loop Head in Co Clare. In Donegal Daisy Ridley and Mark Hamill were spotted enjoying their free time by sampling the local nightlife and chatting to fans.
Hamill, who plays Luke Skywalker, also took some time out to chat to locals when he visited Farren's Bar in Malin. In an interview with Donegal TV, Hamill said he had enjoyed his time filming in Donegal, saying: "Love it, it's gorgeous. It's fantastic, you've made us feel like part of the family."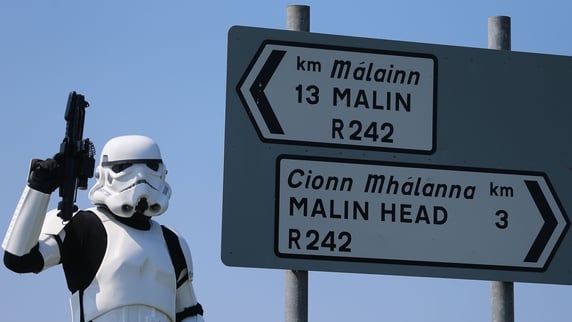 Meanwhile in other unrelated Chewbacca news - the inevitable dance remix of recent viral sensation Candace Payne has landed. You may recall earlier this week how she burst into uncontrollable fits of laughter after she tried on a Chewbacca mask, and clocked up millions of online hits worldwide.
She's also made onto James Corden's late night US chat show, where she got some tips from a man well-versed in directing wayward Wookies.