Ireland's Eurovision hopeful Nicky Byrne has performed an acoustic version of his song Sunlight at the Irish Embassy in Stockholm after an invitation from the Irish Ambassador. And no, we don't know if there were any Ferrero Rocher.
Byrne performed the song, under a really big chandelier, ahead of his appearance in next Thursday's second semi-final qualifier for the grand finale of The 2016 Eurovision Song Contest in the Swedish capital on May 14.
In an official statement, the Irish Ambassador to Sweden Orla O'Hanrahan said: "On behalf of the Irish Embassy and Team Ireland in Stockholm, let us extend the warmest of welcomes to you and wish you every success in the Eurovision next week.
"We were delighted to have the opportunity to welcome you and the RTÉ Delegation here and know that you are all representing Ireland so well and making many friends during your stay here in Sweden. May the sunlight continue shining down on you and bring you all the luck and success that you deserve."
Nicky singing at the Irish Embassy in Stockholm
Former Westlifer Byrne will be hoping to reverse Ireland's recent dismal record in the competition after we failed to qualify for the final for the past two years.
"The reality kind of set in I'd say about three days ago," Byrne told TEN at Dublin Airport on Tuesday as he prepared to jet off. "It was one of those where I was driving home from rehearsal going, 'This is really actually happening now'."
He also said that he's delighted with the level of support he received in advance of his departure for Stockholm.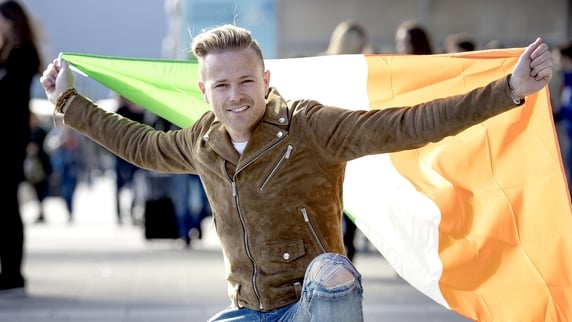 "One of the Westlife fans put a great video together with loads of well wishes from people. That really got me going, with a Rocky kind of theme. It nearly got me wanting to go out for a run last night at one o'clock in the morning."
The Eurovision Song Contest Semi-finals are on RTÉ2 on May 10 and 12.