RTÉ's landmark 1916 drama Insurrection will be screened on television for the first time since its original broadcast in 1966.
The eight-part drama, which starred Anna Manahan, Jim Norton, Ronnie Walsh and Kathleen Watkins among others, will be shown on consecutive nights beginning on RTÉ One from Friday, March 18.
Originally produced and broadcast as part of the 50th anniversary of the Easter Rebellion, Insurrection was shot and conceived in the style of a special TV News report depicting the events of the Rising as they unfolded day by day.
The series was shown on eight consecutive nights on Telefís Éireann in April 1966 and was written by playwright and author Hugh Leonard and featured the late Ray McAnally in the role of the studio presenter.
The drama was a hugely ambitious project and was the biggest drama ever undertaken by Telefís Éireann at a time when the television station was still in its infancy having launched only four years previously.
For 50 years, RTÉ Archives has preserved Insurrection, maintaining and preserving the programme's film materials and tele recordings, catalogue records and documentation, including a large collection of photographs taken on set.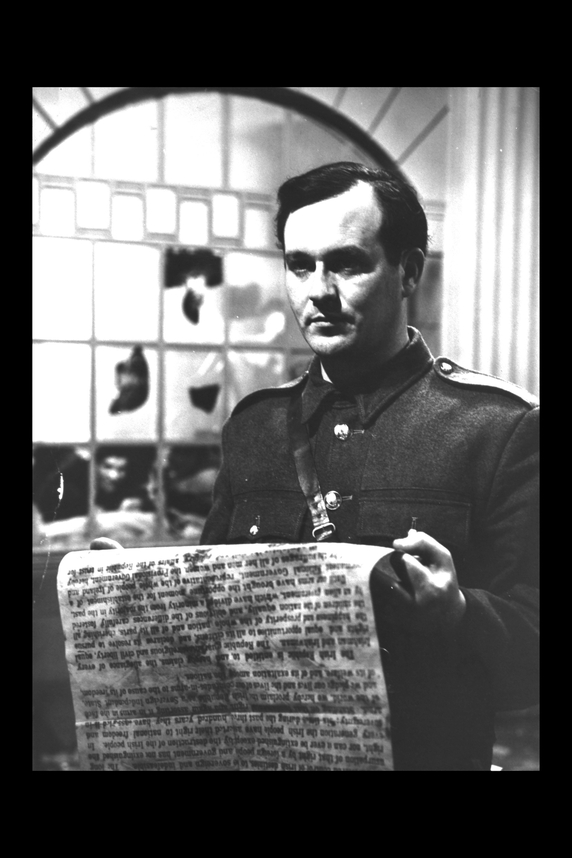 Eoin O'Suilleabhain as Padraig Pearse with the Proclamation of Independence
Originally recorded onto early two-inch open reel video tapes for television, intended to be re-used due to the prohibitive expense, the original programmes were saved by creating a film version of the video recordings.
Due to the importance of the collection and the degradation of such recordings over time, RTÉ Archives undertook the restoration project for Insurrection, in advance of the centenary of the Easter Rising.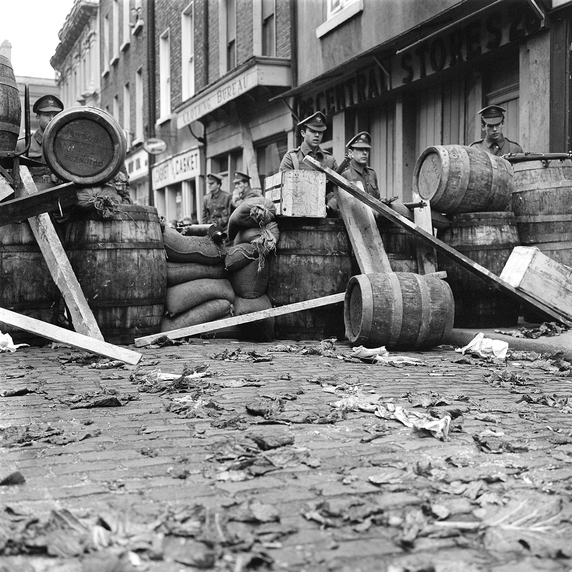 Brid Dooley, Head of RTÉ Archives said, "We are delighted to bring this beautifully restored programme to audiences 50 years after it was first created. Our restoration project for Insurrection which was completed in 2007 involved painstaking picture and audio restoration work by RTÉ's expert archives conservation staff and Windmill Lane post production studios."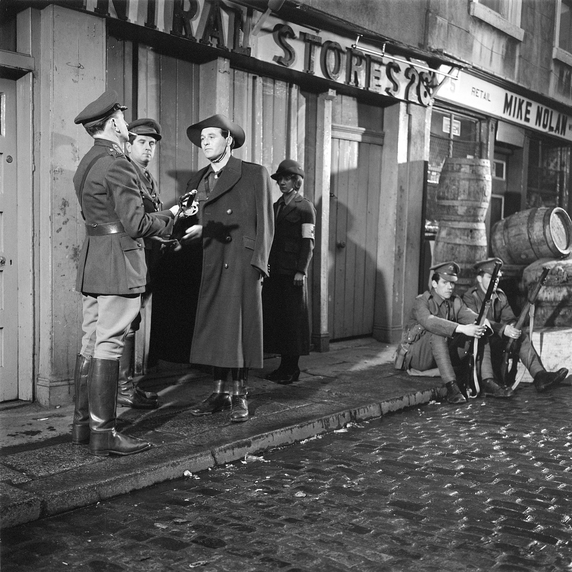 Ó Súilleabháin as Pearse & Sheelagh Cullen as Elizabeth O'Farrell surrender to British Soldiers
A screening of Insurrection will also take place in the Lighthouse Cinema, Smithfield, Dublin as part of RTÉ's Reflecting the Rising in partnership with Ireland 2016 Details and tickets are available at www.rte.ie/1916.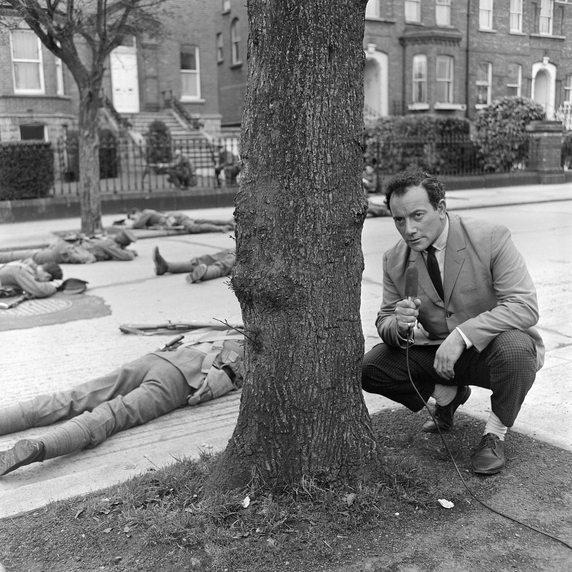 Actor Gerry Alexander plays a reporter in a scene from Insurrection
RTÉ Archives is currently presenting an online exhibition They Were There on the RTÉ website. It includes 50 witness accounts of 1916 events on an interactive map.
The previously unseen and unheard audio and visual collection features men and women who were members of the Irish Volunteers, the Citizen Army, Cumann na mBan, the British Army, the Dublin Metropolitan Police and citizens of Dublin.