Having filmed on Sceilg Mhichíl over the past two years, Disney Lucasfilm has now selected Ceann Sibéal at the western tip of the Dingle Peninsula as a location for the next Star Wars movie.
Contractors have already arrived on the Dingle Peninsula and are currently installing a 1.5km metal roadway on the slopes of Ceann Sibéal. It's understood the roadway will facilitate the transport of gear and crew to the summit for filming on Star Wars: Episode VIII.
Star Wars: Episode VIII is directed by Rian Johnson and will see the return of Irish actor Domhnall Gleeson alongside The Force Awakens co-stars Mark Hamill, Carrie Fisher, Daisy Ridley and John Boyega. New cast members include Benicio Del Toro, Laura Dern and Kelly Marie Tran.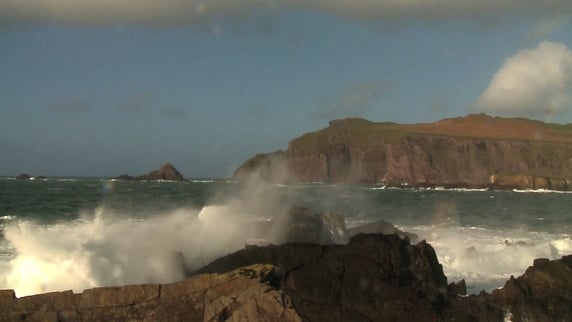 Ceann Sibéal. Filming expected to take place in May
The Irish Film Board says it is not in a position to publicly discuss its dealings with individual film companies. However, it's understood locally that filming will take place over a two-week period in the middle of May. Star Wars: Episode VIII is due for release on December 15, 2017.
Local landowners have entered into access agreements with the film company. A number of hotels and self-catering accommodation have already been booked for the period in question.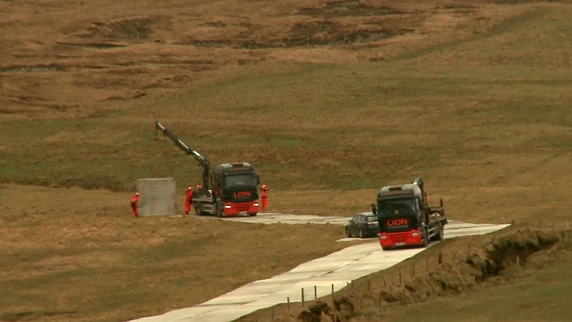 A metal roadway is under construction
The Department of Arts, Heritage and the Gaeltacht confirmed on Thursday that a film permit has been issued for Ceann Sibéal and that it "has approved a proposal for a limited amount of filming by a film production company on Ceann Sibéal on the Dingle Peninsula later this year".
Despite objections from archaeologists and ecologists, Disney Lucasfilm has filmed twice on Sceilg Mhichíl over the last two years. The World Heritage Site features prominently towards the end of Star Wars Episode VII: The Force Awakens with the scenes among the most talked about in the blockbuster.
Tight security measures were enforced on sea around Sceilg Mhichíl and on the mainland during filming, restricting media and public access. Security personnel are already in place at Ceann Sibéal preventing access to the headland, which is privately owned.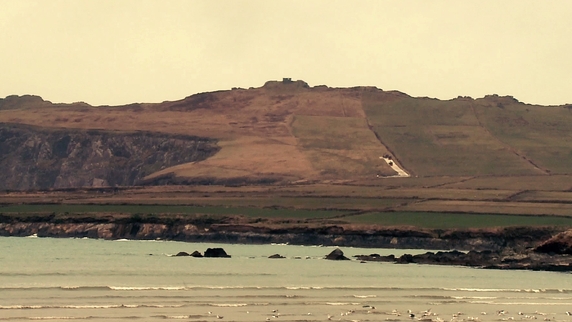 Ceann Sibéal is a Special Area of Protection (SPA) with an internationally important chough colony. Birdwatch Ireland has raised concerns about the impact filming at the location could have on a sensitive habitat. However, the Department of Arts, Heritage and the Gaeltacht is satisfied that filming will not have an adverse impact on the site.
"The Department's National Parks and Wildlife Service, having examined the proposal in detail, is satisfied that filming will not adversely affect the integrity of the SPA, nor have an adverse impact on biodiversity," it said.
"Permission for filming has been granted subject to strict conditions. A Departmental habitats expert will be present during the shoot. Filming on Ceann Sibéal is not expected to start for a number of months."
Tourism interests on the Dingle Peninsula have welcomed the arrival of Star Wars. Gráinne Ní Chonchúir, manager in the Dingle Tourist Office, said it will be a huge boost to the local economy.
"People are still coming here, 50 years [sic] later, asking where the movie Ryan's Daughter was filmed," she said. "Star Wars is such a massive franchise. It will lead to amazing publicity for the Dingle Peninsula."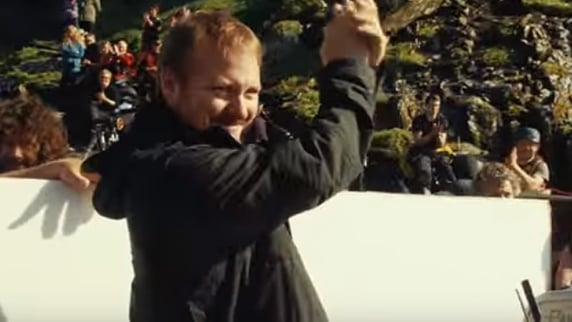 Rian Johnson filming on Sceilg Mhichíl (Copyright: Disney Lucasfilm)
A new production video for Star Wars: Episode VIII which was released last month featured footage of Sceilg Mhichíl. Director Rian Johnson was also shown filming on the island.