Mrs Brown's Boys creator and star Brendan O'Carroll is to tell the story of the Easter Rising in what has been described as a "deeply personal film".
Made for BBC Two, Brendan O'Carroll: My Family at War has been acquired by RTÉ and will be shown on RTÉ One on Sunday March 13 at 9:30pm. It airs on BBC Two on Wednesday March 16 at 9:00pm.
The programme sees the actor and comedian looking at the events of Easter week through the lives of his three uncles, who were among the volunteers.
"I knew about the Rising and learnt about the Rising but never knew anything about my family's part in it," he told the BBC. "So, on the 100th anniversary of the 1916 Rising, I'm going to retrace my uncles' steps and in doing so tell you the story of 1916."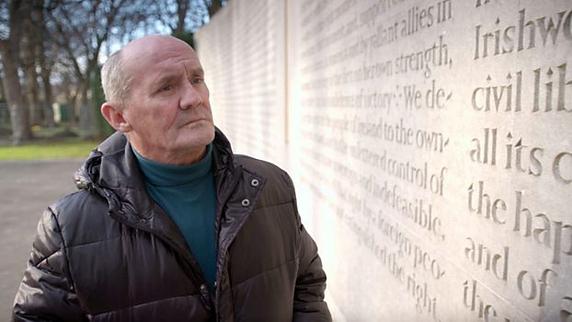 Brendan O'Carroll in Arbour Hill Cemetery
O'Carroll promised viewers "an extraordinary story - a story of subterfuge, violence, of cock-ups, catastrophes but also one of idealism and sacrifice".
The BBC press release announcing the programme also makes reference to "a dark and tumultuous chapter that would go on to shape the history of the British Isles for the next century".
O'Carroll starred in an episode of BBC One's Who Do You Think You Are? in 2014. That programme was billed as "a personal whodunit" and saw him investigating the murder of his grandfather Peter during the War of Independence.
His 1916 documentary on BBC Two is one of a number of Rising-related programmes on BBC radio and television. The British broadcaster will also air the Liam Neeson-narrated documentary 1916, which was recently shown on RTÉ One; the 90-minute documentary Geldof on Yeats - another part of RTÉ's 1916 content - and the Michael Portillo-hosted Easter 1916: The Enemy Files, which tells the story from the British perspective.
For more on RTÉ's 1916 programming and events, visit: 1916.rte.ie.