Boyzone's Keith Duffy and former Westlife singer Brian McFadden are teaming up to go on the road and duet on some of the boybands' biggest hits.  
According to reports Boyzlife is the brainchild of Duffy and the project is backed and hosted by hotel chain Hilton. The first date is scheduled for October 16 at the Hilton London Bankside with the tour billed as "stories, laughter, music". 
Speaking to The Sun which broke the story, Duffy said he and McFadden were embarking on the project with "our ears and eyes open" and that there were "no limits".
"It might end up on TV and we'll record a documentary of it," he said. "We might end up writing some songs together."
Tickets are now on pre-sale. Enter HILTON when purchasing your tickets here: https://t.co/nY12uKKuW0 #BoyzLife pic.twitter.com/9wvilWc8If

— Brian Mcfadden (@BrianMcFadden) March 2, 2016
McFadden said that the prospect of all the members of Boyzone and Westlife joining forces was discussed at Ronan Keating's wedding last year.
"We all had a chat, the lads. We said it would be amazing," he recounted.
"We all get on so well so you never know. We would have so much fun on tour. We could end up adding more people to the next one. Right now this is about me and Keith but the door is always open."
McFadden also suggested new material could become a reality.
"I'm sure that if that ever did happen we'd make new music," he said. "Westlife have had 14 number ones, Boyzone have had nine or ten. There's a lot of material we could perform. But we wouldn't want to tour old music all the time. We love making music."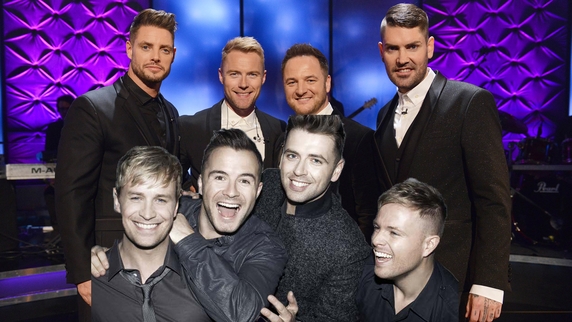 Last month, Duffy's Boyzone bandmate Ronan Keating said he would "never say never" to a supergroup.
"The idea's been thrown around alright. Different collaborations," he told the Press Association. "Not just Westlife, but Girls Aloud and lots of different collaborations."
Keating said he was devoting his energies at present to his solo career, and that Boyzone were "looking at different ideas" for their 25th anniversary. But he didn't rule out the prospect of all of Boyzone and Westlife on stage or in the studio together at some point in the future.
"It'd be cool fun, I think, to do something like that, definitely," he added.
Keating's comments followed a picture tweeted by his Boyzone colleague Shane Lynch in January, which showed the two groups together with the caption: "BOYZONE & WESTLIFE i guess this is kinda what the press conference would look like if #Ireland joins forces."
BOYZONE & WESTLIFE i guess this is kinda what the press conference would look like if #Ireland joins forces 🎶🎹🎤🎉 pic.twitter.com/LZXfIOOZNl

— Shane Lynch (@shanelynchlife) February 1, 2016