As events hurtle toward endgame in tonight's episode of Rebellion, actor Marcus Lamb has said that playing doomed rebel Padraig Pearse in the 1916 drama was a fascinating experience.
"Pearse was this odd combination of shyness and this explosive charisma when he wrote and gave these incredible speeches, like at the grave of O'Donovan Rossa," said the actor, who previously played Des O'Malley in RTÉ drama Charlie and who can also be seen in the upcoming film adaptation of The Secret Scripture.
Pearse famously had a bad squint in one of his eyes and Lamb wore a silicon over his right eye for the part. "He was a self-conscious man and always insisted on being photographed in profile," Lamb said.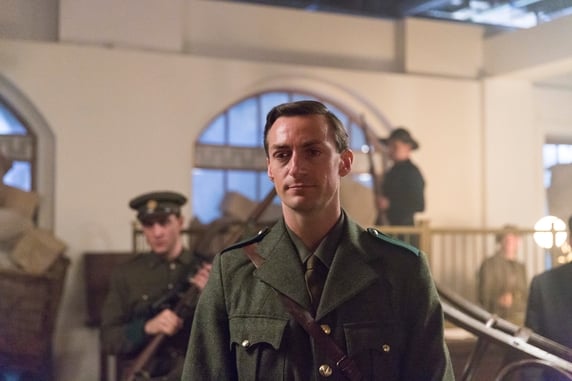 Marcus Lamv as Padraig Pearse in Rebellion
Fellow Rebellion actor Ruairí Heading, who plays Fusilier McGarry, one of the many young Irishmen who signed up to the crown forces, said that he felt the series is covering an oft-overlooked aspect of the era.
"It's one of the sides we don't often see when we look back at the history of it," Heading, who also appeared in Irish comedy film Get Up and Go, said. "We're always taught about the rebels and in a way, the glory of the Rising but you forget that there was a lot of young Irish guys who fought for the British as well."
Click on the video link to watch TEN's interview with Marcus Lamb and Ruairí Heading
Episode four of the five-part drama airs tonight on RTÉ One at 9.30 and sees the GPO in flames and the rebels cornered in Moore Street by British forces.
The wounded Connolly, Jimmy and Elizabeth are amongst those arrested and Stephen is forced to escort the woman he was set to marry, Elizabeth, and Jimmy to prison.
Captain Hammond (Tom Turner) returns home to Dalkey and is powerless to prevent his wife Vanessa (Perdita Woods) from throwing his pregnant mistress May (Sarah Greene) out of their home but he faces bigger problems back at Dublin Castle.