British actor Tom Turner, who plays Dublin Castle civil servant Charles Hammond in 1916 drama Rebellion, has said making the series was "a massive education".
Hammond has become one of the more sympathetic British characters on the show after he finds he has more empathy with his adopted nation than the Empire that employs him. Hammond is also having an affair with Cork woman May (Sarah Greene), his secretary in the Castle.
But speaking to TEN about filming Rebellion in Dublin last year and his previous knowledge of The Rising, Turner said: "I'm ashamed to say I had no knowledge about it because it's not covered in the English syllabus so I had to speak to my mum, her family are from Avoca, and she knew all about it.
"What I found fascinating was that it wasn't a very popular decision in Ireland to rebel. You would have thought that people would have been championing the rebels but, of course, they weren't."
Turner added: "When the rebels were marched to Kilmainham Jail they were spat on and the only thing that led to independence was the fact that these people were shot. Suddenly it was bad publicity for the English and the Empire and, of course, everyone's eyes were opened then. I find the whole era absolutely fascinating."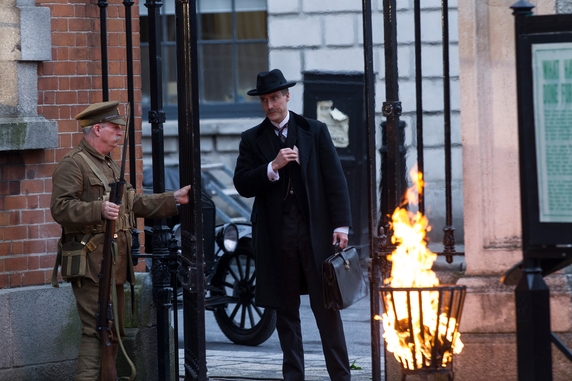 Charles Hammond faces some very tough questions at home and in Dublin Castle in Rebellion
Turner is currently on stage with the Royal Shakespeare Company in England and he has previously appeared in the movies Fused and Catwalk Dogs and Channel 4 soap Hollyoaks. He is also a member of comedy-sketch troupe The Grandees.
He told TEN that he agrees with Perdita Weeks - his on-screen wife Vanessa in Rebellion - who recently said she was ashamed of British behaviour during the Rising.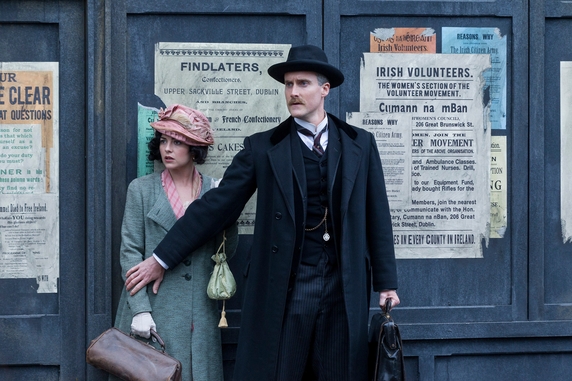 Sarah Greene and Tom Turner in Rebellion
"Absolutely, yes. The British Empire... their track record isn't great," Turner said. "At times like this it seems like the most natural thing in the world to rebel against it but at the time, even Irish people weren't that bothered.
"It wasn't a popular decision to rebel and it takes that kind of change for people's eyes to open and a massive shift occurred. And, of course, you look back and you think, 'How on earth could they have lived under those conditions in the first place?'"