Jason Cullen, who plays Peter, an 11-year-old boy who wants to play his part in the Easter Rising in RTÉ drama Rebellion, says he learnt a lot about 1916 from working on the show.
SPOILER ALERT: if you haven't seen the third episode of Rebellion, please be aware that some key plot developments are revealed in this article.
In a heartbreaking moment in Sunday night's episode, viewers saw Peter being shot as he collected apples from a toppled fruit cart on a Dublin street.
Elizabeth, played by Charlie Murphy, took the boy to a nearby field hospital, but he couldn't be saved. When Peter's uncle Jimmy, who in played by Brian Gleeson, arrives on the scene, he is devastated to find his nephew lying dead.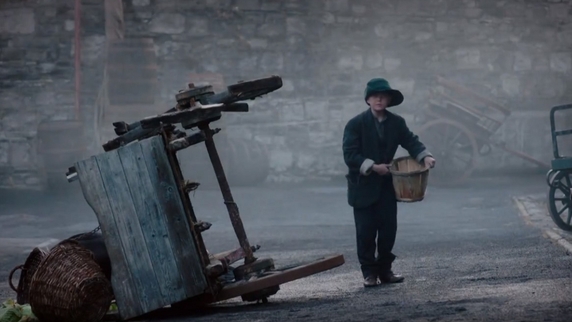 Jason Cullen in a scene from episode three of Rebellion
"Jason Cullen, who played Peter, is a very funny, sweet little kid, and he should be proud of his impact on the series," says Gleeson. "His performance was great.
"War is violent and random, and this episode jumps in the deep end and isn't afraid of showing the horrific loss that some of the characters have endure. I'm very proud to be on the screen with all the actors in this show," he added. "They're all absolutely terrific."
Rebellion continues next Sunday on RTÉ One and you catch-up on the series with the RTE Player.