Sing Street, the new film from Once and Begin Again writer-director John Carney, receives its world premiere at the Sundance Film Festival in the US later this month, and ahead of the screening the first trailer has been released.
Prepare for some serious 80s Dublin flashbacks.
Starring Ferdia Walsh-Peelo, Aidan Gillen, Maria Doyle Kennedy, Jack Reynor and Lucy Boynton, Sing Street tells the story of Conor (Walsh-Peelo) who is forced to leave private school for a far tougher inner-city education experience when economic reality bites.
He falls for Raphina (Boynton) and invites her to appear in his band's music videos. She agrees, but the problem is Conor doesn't actually have a band. Yet.
Reinventing himself as 'Cosmo', Conor gets together with a bunch of like-minded teenage souls to make music, and so embarks on the journey that will change his life.  
Carney's script for Sing Street has been described as semi-autobiographical. Before he pursued a career in film, Carney was the original bass player in The Frames.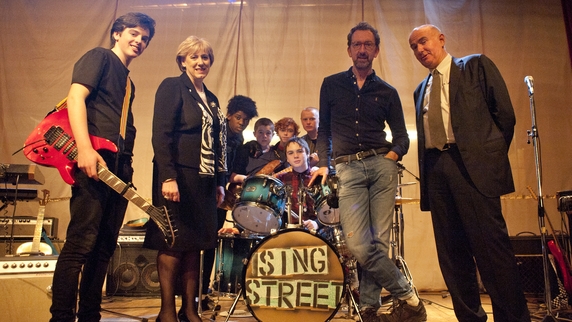 Arts Minister Heather Humphreys with director John Carney (second right), Irish Film Board Chief Executive James Hickey (first right) and the young stars of Sing Street
Prior to the start of filming on Sing Street in late 2014, American studio the Weinstein Company agreed a $3m deal for the US rights. The company also distributed Carney's Begin Again.
Sing Street will open the Audi Dublin International Film Festival on February 18 and goes on release in Irish cinemas on March 18.