Star Wars: The Force Awakens has overtaken Avatar as the biggest film in US domestic box office history.
The JJ Abrams-directed adventure, which was released in cinemas last month, has taken $758.2m - and counting - at the US box office, while James Cameron's 2009 sci-fi epic's total is $760.5m. Star Wars: The Force Awakens has broken the record in just 20 days, whereas Avatar's tally is for the duration of its run in US cinemas, Disney has announced.
An update on the official Star Wars website reads: "We are proud of these records, but know that they would not be possible without fans' enthusiasm and continued support.
"We feel it here and it drives us every day, and it will continue to in the very bright future of Star Wars. There has indeed been an awakening - and it's all thanks to you."
But if inflation is taken into account, both The Force Awakens and Avatar are some distance behind Gone with the Wind (adjusted to $1.74bn) and the first Star Wars movie (adjusted to $1.53bn).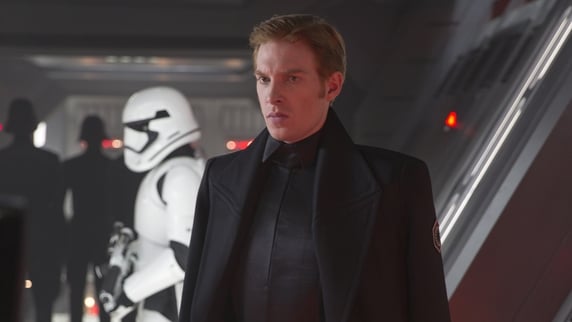 Domhnall Gleeson in Star Wars: The Force Awakens
At the global box office The Force Awakens has taken $1.56bn to date, with Avatar holding the record at $2.8bn. Industry eyes will now be on China, where The Force Awakens opens this weekend.
The Force Awakens broke the record for the biggest opening day of all time at the Irish and UK box office last month.
#StarWars fans have kept a galaxy far, far away alive for nearly 40 years. Thanks for supporting #TheForceAwakens! https://t.co/udMEz4QwsK

— Star Wars (@starwars) January 7, 2016