Hollywood star Harrison Ford reckons Star Wars is more of a fairy tale than a work of science fiction.
The 73-year-old gained worldwide fame as Han Solo in George Lucas' original Star Wars movie back in 1977, a role he has revived for Star Wars Episode VII: The Force Awakens.
Talking on The Jonathan Ross Show, he said: "There is science fiction I've read that I really enjoyed, but I can't say I was a fan of the genre.
"I don't think of Star Wars as science fiction, really.
"What I understood about it was from the context of the characters, that I was one of a kind of fairy tale setting.
"You had a wise old warrior in Alec Guinness (as Obi-Wan Kenobi), you had the callow youth in Mark Hamill (Luke Skywalker) and the beautiful princess, Carrie Fisher (Princess Leia), and the smart ass."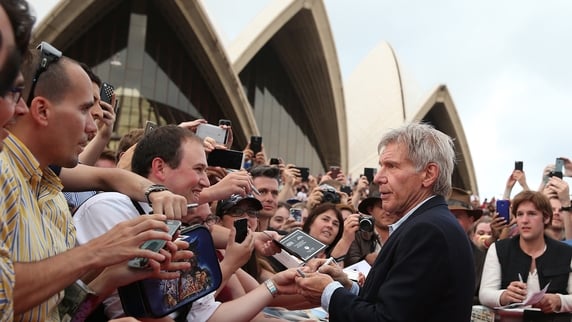 Harrison Ford greets fans at Star Wars premiere
The blockbusting movie, which reunites Ford with his original cast members, has opened to acclaim from critics.
"I was just glad to be involved in it. Star Wars has been very, very good to me," the movie icon acknowledged.
"It gave me a career I have enjoyed and all the opportunities that have preceded from that attachment to Star Wars, so when George called and asked if I might be interested in coming back, I said: 'Yes, why not?'
"Basically. I've been sitting around waiting for somebody to give me a job!" he joked.

The Jonathan Ross Show, Saturday, December 19, at 9.45pm on UTV Ireland.