Brie Larson, the Golden Globe-nominated star of the Irish film Room, has recounted her struggles with self-doubt which saw her turn her back on acting to pursue other career options.
In a roundtable interview with Cate Blanchett, Jennifer Lawrence, Helen Mirren, Carey Mulligan and Kate Winslet for trade publication the Hollywood Reporter, Larson says that her path to major roles was anything but smooth.
"I went back to college a couple of times to be a photographer, and then an interior designer and then, at the real depths of it, I wanted to be an animal trainer – that was like a real low point," she says.
When asked what triggered the lowest point Larson replies that she wasn't pretty enough to play the popular girl and wasn't mousey enough to be the mousey girl.
"So I never fit in," she continues. "And so I'd get close [in auditions] but they'd be like, 'Try these sides' or 'Try these'. I wasn't a cliché so I never got anywhere with anything and it was really painful."
Describing her presence in the company of the other actors as "super surreal", Larson says it was her dream from the age of seven to act.
"Everybody has dreams and there's a lot of people that dream of being an actor. It's like you're constantly questioning yourself with those 'nos' as to 'Is this another moment that I take and I can use this towards the craft at another time, or am I just delusional? Am I just completely insane?'"
However, she adds that her experiences of rejection proved beneficial in the end. "What's interesting is how many times I did take a step back, which I am so grateful for because I think that getting pulled back into it – feeling like you're getting 'the call' – is what drives me to act," she says.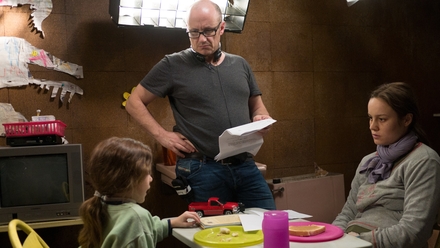 Director Lenny Abrahamson, Brie Larson and Jacob Tremblay on the set of Room
Directed by Dubliner Lenny Abrahamson and adapted by Emma Donoghue from her award-winning book of the same name, Room tells the story of a five-year-old boy (Jacob Tremblay) growing up with his mother (Larson) in a shed which he believes is the whole world, while she hides from him the fact that they are captives.
Along with Larson's Best Actress nomination, Room has been shortlisted for Best Drama and Best Screenplay at the Golden Globes. The awards take place on Sunday January 10.
Larson and co-star Tremblay are also among the nominees for the Screen Actors' Guild Awards, which take place on Saturday January 30.
Room won Best International Independent Film at this month's British Independent Film Awards and was honoured with the People's Choice Award at the Toronto International Film Festival in September. The Toronto award is often an indication of things to come during Oscar season.
12 Years a Slave, Slumdog Millionaire and The King's Speech all previously won the People's Choice Award and went on to win Best Film at the Oscars.
The 2016 Oscar nominations will be announced on Thursday January 14.
You can watch Alan Corr's interview with Lenny Abrahamson by clicking the link above.