Brad Pitt has revealed that he often finds himself in bidding wars over film rights with his Ocean's Eleven co-star George Clooney saying things "can get competitive" between the two actors.
The two Hollywood heavyweights are good friends known for playing pranks on each other, but things turn competitive between them when it comes to buying the rights to films they want to produce through their individual film companies.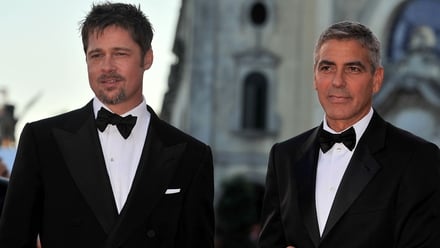 Pitt recently secured the rights to the Law of the Jungle adaptation, a film Clooney was also interested in.
"In all fairness, he outbid me on Argo," Pitt told New York Magazine. "But, yeah, it can get competitive. We do naturally have a lot of the same tastes and interests."
Pitt's new film, The Big Short, was another movie that grabbed the attention of the famous friends with Pitt putting his success at securing it down to his relationship with author Michael Lewis, proving sometimes it's all about who you know.
"I think maybe we got the upper hand at auction because Michael Lewis and I got tight on Moneyball," Pitt explained.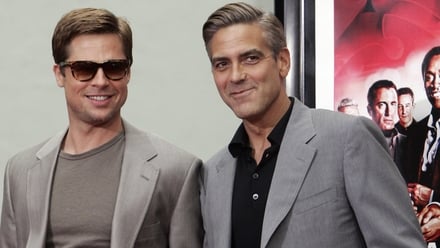 Pitt stars in The Big Short alongside Steve Carell, Christian Bale and Ryan Gosling and he revealed that he often has to star in films he wants to make in order to get them green-lit.
"It's complicated material, it's a gamble," he said. "They need some guarantee with marquee. So often I jump in and take a part first because I love the project, and I gotta get in to make sure it gets made."