Irish box office hit Brooklyn has continued its awards season momentum with the top honour at the Denver Film Festival.
In the People's Choice categories, the John Crowley-directed film was named Best Narrative Feature. Over 250 films were screened at the festival, which is now in its 38th year.
Brooklyn has previously won People's Choice and Audience awards at the Vancouver, Virginia and Mill Valley film festivals.
Star Saoirse Ronan won the New Hollywood award at the Hollywood Film Awards, while her co-star, Emory Cohen, was honoured with the Breakthrough Performer award at the Hamptons International Film Festival.
Brooklyn and its cast are also nominated in a number of categories at next month's British Independent Film Awards. Ronan is nominated for Best Actress while co-stars Domhnall Gleeson and Julie Walters are shortlisted in the Best Supporting Actor and Actress categories respectively.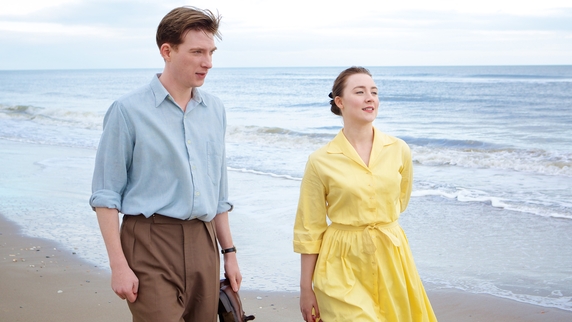 Nick Hornby is nominated for Best Screenplay for his adaptation of Colm Tóibín's source novel, with casting director Fiona Weir among the nominees for Outstanding Achievement in Craft.
Filmed in Wexford, Dublin, Wicklow and Montreal, Brooklyn tells the story of Eilis Lacey (Ronan), who leaves 1950s Ireland for New York. There she falls in love but later has to choose between her life in the US and her life back home.
The romantic drama made Irish box office history earlier this month, claiming the biggest opening of any Irish film in Ireland since Michael Collins in 1996. Brooklyn took over €605,000 in Ireland following its release on November 6, overtaking recent Irish hits The Guard (€570,000), Angela's Ashes (€557,500), In Bruges (€482,000) and Calvary (€462,000). Opening on 87 screens gave Brooklyn the largest screen count ever in Ireland for an Irish film.