Hozier has used his first at-length interview on US television to again criticise the Catholic Church's stance on homosexuality and call for change.
The Wicklow singer-songwriter was appearing on the Larry King Now show, during which guest host Kelly Osbourne talked to him at length about how his song Take Me to the Church had become a global phenomenon and the message he was trying to convey through his music. 
Osbourne then raised Pope Francis' recent visit to the US and the fact that he is against gay marriage. 
"He said, 'It's ok to be gay, but you can't get married'," said Osbourne.  
Hozier claimed that the Pope's stance was "one of the kind of odd kind of paradoxes and weird kind of hypocrisies of that organisation". 
"He came out last year [2013] and said, 'Who am I to judge?' with regards to somebody's sexual orientation," said Hozier. "But I think it's important to differentiate between lip service towards something and actually making change." 
Hozier said that while he considered the Pope's comments to be "hopeful", saying 'Who am I to judge?' in 2015 was something that should have been said a hundred years ago. 
"It's something that should never be said at all, really, is what I should say," he continued. 
"I think when actual doctrine change and policy changes... but it's still undeniably an organisation that has institutionalised an aversion to homosexuality, and an irrational one, too."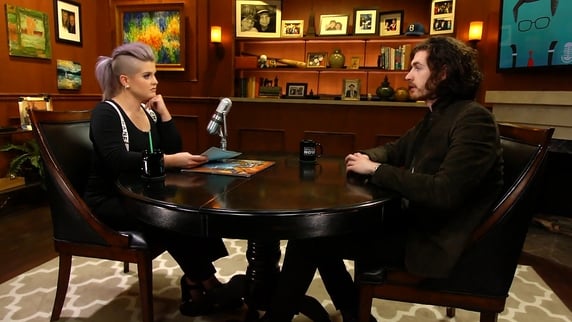 Hozier also hit out at the Church for what he described as "institutionalised gender inequality" and its stance on contraception.
"In this case it still harbours an irrational aversion to homosexuality, which in my view - and I think that's why I was kind of driven to write Take Me to Church... - I think that kind of provides a justification for homophobia, however passive or however latent or under the surface."