Basketball player and reality TV star Lamar Odom, the estranged husband of Khloé Kardashian, had been using cocaine and sexual performance-enhancing pills before he was found unconscious in a Nevada brothel, according to emergency calls.
Odom is reported to be in a critical condition in a Las Vegas hospital following his collapse at the Love Ranch legal brothel in Crystal, Nevada.
Khloé Kardashian and her sisters Kim and Kourtney, her mother Kris Jenner and half-sister Kendall Jenner are said to be at his bedside at Sunrise Hospital.
Nye County Sheriff Sharon Wehrly said: "At approximately 3.15pm on October 13 2015, a call came into the Nye County Dispatch Centre first from Mitsie John, a Love Ranch employee, and the second caller Richard Hunter, media director for Dennis Hof's Bunny Ranch, requesting an ambulance for an unresponsive male experiencing a medical emergency at the Love Ranch in Crystal, Nevada, approximately 20 miles north of Pahrump, Nevada, in Nye County."
Sheriff Wehrly continued: "During that call the reporting parties informed the Nye County Sheriff's Office Dispatch the male had been using cocaine. They confirmed his usage on Saturday, but were unsure if it had continued."
"They also informed dispatch he had used up to 10 tabs of sexual performance enhancer supplements over the three-day period. He was unconscious, but breathing. He had blood coming from his nose and mouth along with a white substance," she added.
Blood samples have yet to be tested.
Odom was a double NBA Championship winner with the Los Angeles Lakers in 2009 and 2010 and was also a bronze medal winner with the US basketball team at the 2004 Athens Olympics.
He featured regularly on the Kardashians' reality TV show, Keeping up with the Kardashians, and starred in the spin-off show, Khloé & Lamar.
He married Khloé Kardashian in 2009. She filed for divorce in 2013, but it has yet to be finalised.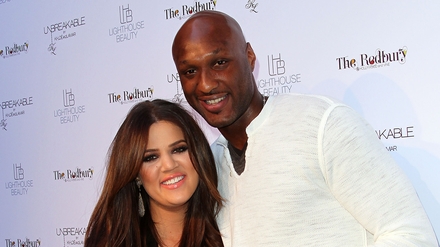 Khloé Kardashian and Lamar Odom in 2011