While accepting the Michael Jackson Video Vanguard Award at the MTV Video Music Awards on Sunday night, Kanye West announced that he plans to run for US President in 2020.
During his lengthy acceptance speech – because what else would we get from West – he mused that the future is about people that have ideas and believe in truth, before announcing his political plans.
"It's about ideas bro, new ideas bro. People with ideas. People who believe in truth," he said. "And yes, as you probably could have guessed by this moment, I have decided in 2020 to run for president."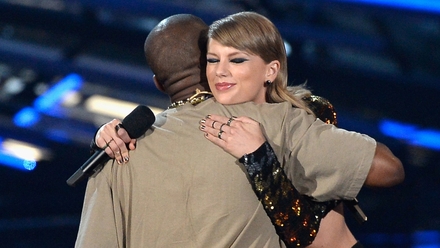 Putting the past behind them: Taylor Swift presents Kanye West with an award
West was presented with the award by none other than Taylor Swift, who joked about the time he crashed the stage during her 2009 VMAs acceptance speech, as well as highlighting his influence on her career and his contribution to music.
He spoke about how fatherhood has changed him, saying that if he had been a dad back in 2009 he probably wouldn't have rushed the stage to ruin Swift's special moment. 
"If I had a daughter at that time, would I have went on stage and grabbed the mic from someone else's..." he said.
West added, however, that the only reason MTV asked Swift to present him with the award was to "get them more ratings".