Mission: Impossible - Rogue Nation actress Rebecca Ferguson has said that the film's leading star and producer Tom Cruise has a lot of pressure, adding that she doesn't know how he manages.
The Swedish actress landed the central female role in the latest instalment of the hugely successful action franchise, and was immediately thrown into a full-on gym schedule which saw her do "six hours of training six days a week".
However, Ferguson praised her co-star Cruise for his ability to juggle acting and producing the big-budget blockbuster, saying it's "his child".
Speaking to TEN and other press, she explained: "This is Tom, this is his baby, it's been from the start his child. I don't know how he does it. And also he can cut off and come act with me and he's with me in that moment, but he has a lot of pressure. I don't know how he manages.
"What he does on the production side he leaves out of the acting side so I don't see Tom as a producer, I see Tom as a colleague, a friend, a co-star and that's all I need to see. And I know the work he does, he does triple the amount."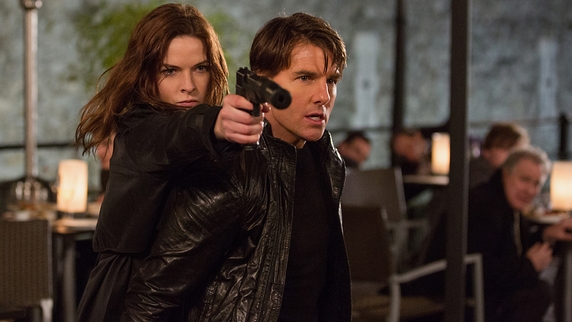 Ferguson, who previously was best known for her Golden Globe-nominated role in BBC drama The White Queen, added of Cruise: "I don't know how he sleeps! He would never take the job away from anybody else, he will be there and will support and help out.
"His arms are everywhere to help the film move on. It's a big franchise and there are a lot of expectations that come with it."
Mission: Impossible - Rogue Nation is out in cinemas on July 30.