Sinéad O'Connor has said that "music has officially died" after US magazine Rolling Stone put reality star Kim Kardashian on its front cover.
In an expletive-leaden Facebook post, the singer wrote "What is this **** doing on the cover of Rolling Stone? Music has officially died". She continued: "Who knew it would be Rolling Stone that murdered it?"
The cover features Kardashian in a sailor's hat with her striped t-shirt off her shoulders to reveal her famous cleavage.
O'Connor's angry post has so far received 69,411 "likes" and has been shared by 19,411 Facebook users.
Earlier today, she posted a lyrics video of Bob Dylan's 1979 song Gotta Serve Somebody with the dedication, "For Rolling Stone and Kim, and for Simon and Louis too."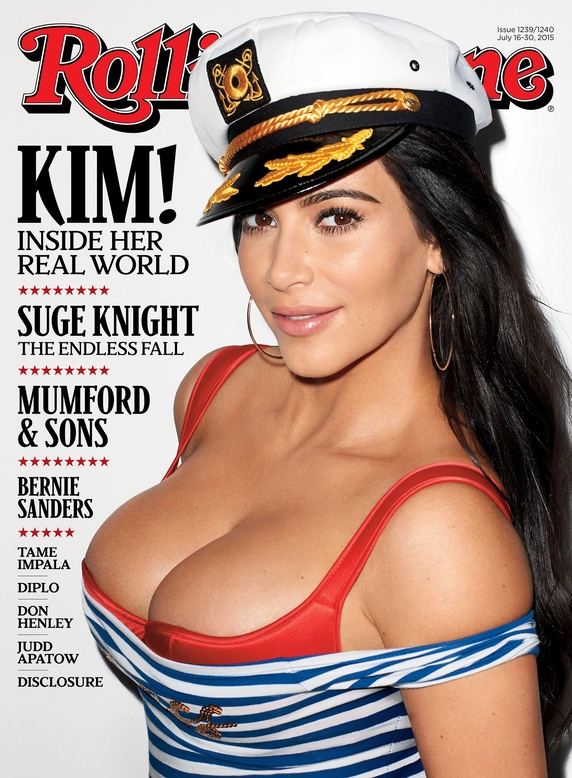 Kim Kardashian on the cover of Rolling Stone
"Simon Cowell and Louis Walsh can no longer be expected to take all the blame," said O'Connor.
She added that Bob Dylan must be "horrified" and called for a boycott of the magazine.
It's not the first time Sinead has made her strong opinions known. In 2013 she wrote three open letters to Miley Cyrus following the release of her infamous video for Wrecking Ball, during which she appeared naked, urging Miley to not let the music industry "make a prostitute out of you".
It led to a huge Twitter spat between the pair and ironically the argument topped the list of celebrity spats of the year in Rolling Stone magazine.
O'Connor's rant has made headlines worldwide with media outlets in the United States, Australia and around Europe giving it prominent coverage. It has also generated plenty of heat on social media.
Sinead O'Connor bashes Kim Kardashian's #RollingStone cover: "Music has officially died." http://t.co/cUzVDHzmZ9 pic.twitter.com/HEOfrqOlsE

— EntertainmentTonight (@etnow) July 15, 2015
Sinéad O'Connor throws MAJOR shade at Kim Kardashian over her Rolling Stone cover: http://t.co/6Nc9cWbVCi

— E! Online (@eonline) July 15, 2015
Sinead O'Connor blasts "Rolling Stone" Kim Kardashian cover: "What is this c--t doing on the cover?" http://t.co/YQ054jCegt

— billboard (@billboard) July 14, 2015