His dad may be one of Hollywood's biggest stars but actor and model Scott Eastwood has reavealed that he received no "handouts" from his dad Clint Eastwood.
Speaking to Nylon magazine the star said, "I parked cars, did construction, anything on the side to make extra money. My dad wasn't a guy who gave handouts, so I had to work for it."
Clint's decision to move away from Hollywood inspired Scott to do the same, "I did the L.A. thing for a while, moved down to San Diego about seven or eight years ago, and never looked back. There's no bulls*** here, no pretentiousness, no one trying to climb a social ladder. It's just people living their lives, and I'm very happy here. You only get one life; why not live a great one?"
Scott can next be seen in Nicholas Sparks' The Longest Ride which hits cinemas on June 19.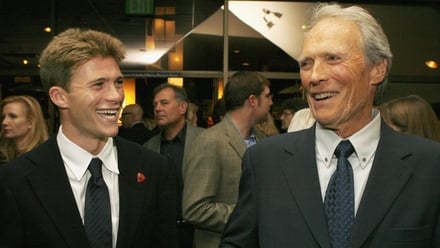 Scott and Clint Eastwood at the 2006 premiere of Flags of Our Fathers.