With Aidan Turner set to make his debut in the lead role in BBC One's new adaptation of classic Cornwall-set period drama Poldark next month, the Dublin actor has been speaking about what's in store, going topless, and Seamus, the horse.
Turner's co-stars include Eleanor Tomlinson (Death Comes to Pemberley), Heida Reed (Silent Witness), Ruby Bentall (The Paradise), Jack Farthing (Blandings), Kyle Solder (Anna Karenina), the late Warren Clarke (Red Riding), Phil Davies (Whitechapel), Beatie Edney (Poirot) and Robin Ellis, who played the title role in the original 1975-77 BBC adaptation of Winston Graham's acclaimed novels.
Turner has said of the show: "I had never heard of Poldark but when I told my parents I was going to play Ross they nearly had a fit! The previous 1970s series was popular in Ireland, I guess because people could relate to it - the farming, the scenery, the horses... it is continually surprising meeting people who are so excited to hear we are making a new adaptation."
Here, Turner talks more about his character.
Ross Poldark - the man
When we first meet Ross he is in turmoil. He went away to war a young, cocky, confident character with a carefree attitude, who was running away from a lot of things. In America he was faced with death on a daily basis and then when he returns to England he doesn't really know who he is anymore.
When he arrives back in Cornwall everything's changed for him: his father has died, his land is barren, the local tin mines are going through a hard time and laying off workers, leaving the region on its knees, and he's lost Elizabeth, his childhood sweetheart who he expected to marry on his return.
Ross knows he needs to pick himself up and try and find who he is and where he lies in this new world.
The changes in Ross
Ross is 23 when he comes home and you can see changes quite fast. When he realises that Elizabeth is out of the picture, he changes his frame of mind and concentrates more on getting his land back together, looking after his tenants, and resolves to revive the ruined mine on his estate.
Filming in Cornwall
It was simply stunning, we had the best weather there over the Summer. We filmed at so many gorgeous locations but the weather really made it work. People know Poldark so well down there and are proud of it so we were welcomed all the time. It was surprising getting fans turning up to set and people travel to show their support and see what was going on. It reminded me of home in Ireland, and it was great to be able to film there so much.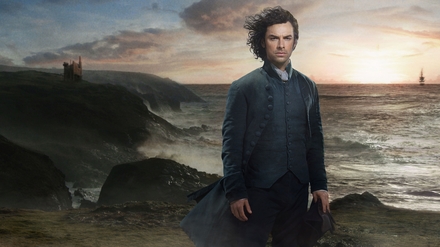 The hardest scenes to film
Even if you thought something was scary, the great thing about playing Ross is that you can never chicken out of doing anything! I was going to the gym a lot the first couple of months as I had a couple of topless scenes. One of the things I did find out is that they didn't actually wear underwear at the time so it made it quite difficult to shoot some of the stuff we did. They would just wear the shirt and then tuck it in and around.
The highlight
Has to be Seamus the horse. You can't do bad acting on a horse, you look too cool. There's an energy when you deliver dialogue on a horse, it's empowering - especially for Ross, he thrives on these kinds of situations. So anytime I could get on the horse I would do it.
Seamus is quite skittish, but he's a real actor's horse as you can rehearse something once and he knows where he's at, the direction he's going in, when he has to stop and reset. We had to change words as he would just set off when we shouted 'Action'. He was so sharp and was always moving and on the go. Him and Ross are well suited!
Luckily I did a lot of riding in New Zealand when we were there filming The Hobbit. I trained a lot and thought I'd leave a pretty good rider - thank God I did as there was a lot of riding in Poldark. It's very much a part of who Ross is, so it's immediately getting you into character.
On whether he felt any pressure
Not really. I don't want to let people down, especially fans of the character, but I don't think it's productive to think about how you can disappoint people. We took our inspiration from the original novels by Winston Graham and Debbie Horsfield's scripts.
The fan base of the 1970s adaptation of Poldark is very supportive; they have been very generous and kind and genuinely excited to see what we have done with this. It's like breathing new life into it. But we need to remember that a lot of people haven't seen the previous adaptation as it was 40 years ago, and there's a lot of people that won't have heard of it either!
Having scenes with Robin Ellis, who played Ross in the Seventies series, was brilliant. He is such a lovely guy and still receives fan mail! You can only imagine what it was like – that show was just absolutely huge.