Are the odds in its favour? Read Sinead Brennan's review here and find out.
When I first heard that they planned to do what has become so common in big blockbuster book adaptations, and split the final instalment of The Hunger Games into two films, I wondered how this was going to work. I 'got' it with Harry Potter and the Deathly Hallows; I even, to an extent, 'got' it with The Twilight Saga: Breaking Dawn, but for Mockingjay, the least exciting and shortest of the Hunger Games novels, I wondered how they would make this story sustainable over two lengthy films. But lo and behold, they've done it.
Sometimes it's great to be proven wrong. 
From the opening scenes we are drawn into Mockingjay - Part 1 with the familiar face of Katniss Everdeen (Jennifer Lawrence). But it's clear that the events of Catching Fire have deeply affected our heroine, who is now residing in a previously-thought-destroyed District 13 military base.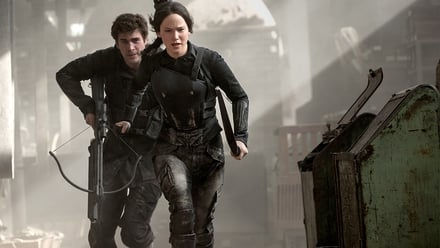 Lawrence gives the best performance of the series so far in this film: we really feel the journey Katniss has been on and how it has impacted on her character, mind and spirit. She's still the same feisty, strong Mockingjay, but with Peeta (Josh Hutcherson) and the innocent people of the districts outside The Capitol in serious danger, Katniss has become the symbol of the rebellion and must carry the weight of that on her shoulders. It's the complexity of her character and Lawrence's engaging performance that bring this film to the next level. Despite the substantial two-hour running time, at no point did I feel as though things were becoming tired, drawn-out or boring.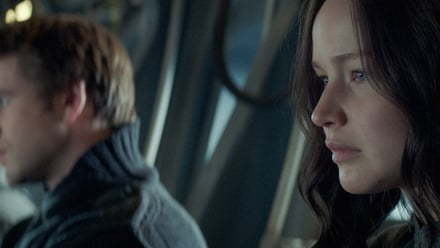 Fans who have not read the books will be shocked by some of the twists and turns. Even those of you that do know what happens next may just find yourselves so wrapped up in the plot that the twists seem as though you're experiencing them for the first time, which is commendable and a tribute to the script, direction and stellar cast.
The film is fittingly dedicated to the memory of the late screen legend Philip Seymour Hoffman whose performance is, as usual, faultless.
While there are elements from The Hunger Games and The Hunger Games: Catching Fire that were more action-packed and edge-of-your-seat exciting than the events of Mockingjay - Part 1, as a whole, I think it's possibly the best and most complete film, a perfect build-up to Part 2 – the grand finale.
3.5/5