Jimmy Fallon made his debut on The Tonight Show last night (February 17) with a star-studded episode.
The television host made his presenting debut on the show from its original New York studios, 42 years after Johnny Carson moved the show to Burbank, Los Angeles, in 1972.
The 39-year-old joked: "I'm Jimmy Fallon and I'll be your host… for now," before thanking past Tonight Show hosts "Steve Allen, Jack Paar, Johnny Carson, Jay Leno, Conan O'Brien and Jay Leno".
The comedian revealed: "I honestly don't know how I got here. I grew up in upstate New York in a town called Saugerties, New York. I had a great childhood. I'm 39-years-old. I live in New York City with my beautiful wife Nancy and my daughter Winnie, who is six months old. I love her so much. I'm a proud, proud dad."
Fallon was first joined by Will Smith on the show, and the duo featured in a video wearing 1980s' style dungarees to demonstrate the evolution of hip-hop dancing.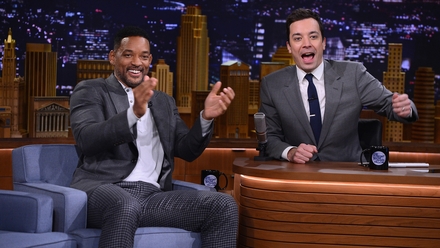 U2 also made a guest appearance, performing their latest track Invisible from the observation deck of the Top of the Rock in Manhattan.
Actor Robert De Niro made a surprise appearance to reward Fallon with $100 for a bet, saying "To my buddy who said that I'd never be the host of The Tonight Show - and you know who you are - you owe me a hundred bucks."

A host of famous faces welcomed Fallon to the show, including 30 Rock's Tina Fey, singer Mariah Carey, Kim Kardashian, Joan Rivers, Lady Gaga, Lindsay Lohan, Joan Rivers Sarah Jessica Parker and Stephen Colbert.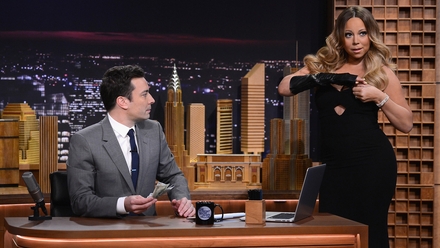 Mariah Carey on The Tonight Show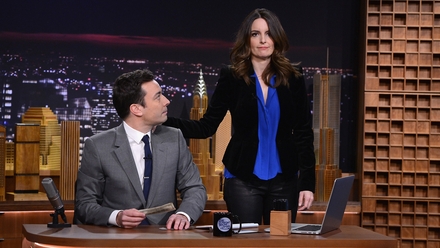 Tina Fey with Jimmy Fallon