Justin Bieber's record label boss Lucien Grainge is concerned about the 19-year-old singer and thinks he needs an intervention.
Speaking at the Universal Music Group Grammys after party Grainge told the Daily Mirror, "I'm very concerned about him. I've been concerned about him for many months.
"And Scooter Braun (Bieber's manager), who I work with very closely and is supposed to be here, but is with him at the moment. The management, us... This has nothing to do with the business or records or releases, this is to do with the young man."
He continued, "He needs help. He needs an intervention. We are going to give all the support as a company to take as much pressure off him so he can look forward."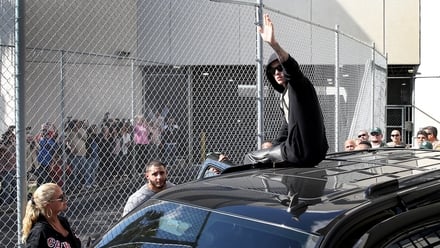 Bieber leaving jail after posting bail following arrest last week.
Grainge is hopeful that Bieber will get through this tough time, "Hopefully, we will all get through to him. But what people don't understand, he's a 19-year-old. You cannot just pick someone up and force them to do something if they are not ready.
"All of us around him need to take all the responsibility, all the pressure off him and give him support so he can address the issues he has – and he does have issues. And I'd like it to be dealt with."
The Believe singer was arrested last week for driving under the influence and for reportedly drag-racing his rented Lamborghini.