It's already a show renowned for its acreage of naked flesh and now Games of Thrones star Jack Gleeson has stripped off for a nude charity calandar which is being published by Trinity College students.
The Cork-born actor, who studies Philosophy and Theology at Trinity, features in a racy shot for the Trinity College Scholars and Fellows Nude Charity Calendar 2014, reports breakingnews.ie.
In the calendar, Gleeson (21), who stars as nasty King Joffrey in the HBO drama, can be seen sitting at the centre of a table in a biblical-style banquet with only bread rolls to hide the students' modesty.
All proceeds from the €5.00 calendar will directly fund educational charities including the Trinity Access Programmes and the North Inner City Dublin Community After Schools Project.
Game of Thrones will make its returns to screens in April with Season four.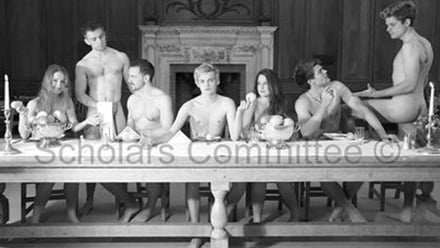 Jack in the image from Trinity Scholars and Fellows charity calendar