Nicole Scherzinger and Gary Barlow chose their final contestants to go through the live stages of this year's X Factor last night.
Nicole Scherzinger and Gary Barlow chose their final contestants to go through the live stages of this year's X Factor last night.
Sunday night's episode of The X Factor saw the girls category perform for Nicole Scherzinger and Mary J Blidge in Antigua and the groups category perform for Gary Barlow and Olly Murs in New York City for a place in the live shows.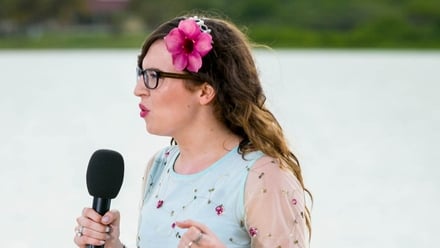 ABI ALTON
Age: 19
Occupation: Morrison's sales assistant
Abi feels doesn't feel as though there a lot of opportunities in terms of music where she lives in the small town of Guisborough, so she has been doing some gigs at local venues in preparation for her audition. She knows last year's X Factor winner James Arthur as a result of them both living in the same area and performing together at local gigs and jam nights.
Abi lives at home with both her mum and dad and says that her dad is her number one fan who takes her everywhere; he is her 'best mate'. At the moment, she works as a sales assistant in the food store Morrison's but finds it really 'boring'.
Abi writes her own songs and also enjoys playing the guitar and piano. She wowed the judges at the arena audience with a self-penned song about heartbreak. During her arena audition Abi broke down after she sang about a boy who had broken her heart.
The young couple have since reunited but an emotional Abi has continued to deliver sensitive and expressive performances which have captured the judges and audiences a-like.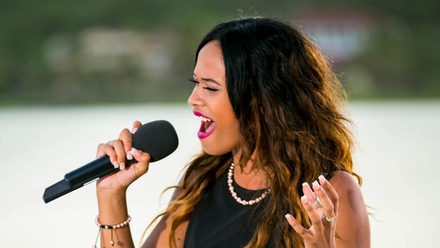 TAMERA FOSTER
Age: 16
Occupation: Was due to start college in September to study Musical Theatre
After originally being part of singing duo Silver Rock, the judges decided to split the two girls up in the room auditions and put both Tamera and Jerrie Dila in the girls' category as they felt the girls had no chemistry together. The duo only met a short time prior to their audition and had only rehearsed twice together before they auditioned for the show.
During her arena audition Tamera struggled to remember all the lyrics to the song, but still managed to wow the judges with her vocal range and with the support of a roaring crowd, she made it through to Bootcamp. At Bootcamp, Tamera fought for her place at Nicole's Judge's House in Antigua where she impressed both Nicole and guest mentor Mary J.Blige with her powerful voice.
Tamera is 16 years old and lives with her mum and two siblings in Gravesend. Her dream is to be an international pop star and tour the world.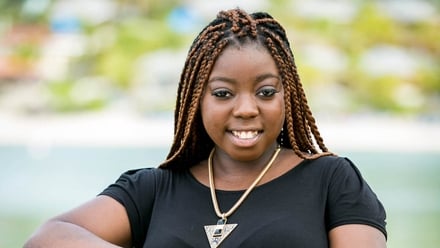 HANNAH BARRETT
Age: 17
Occupation: Student, studying her A Levels
Music is something that has always been close to Hannah's heart after she lost her father when she was only 9 years old: he was her musical inspiration and initially got her into music by introducing her to artists such as Ella Fitzgerald, Lauren Hill and Anita Baker.
For Hannah this competition is all about the music and soul, rather than the fame. She started singing in her local church and this is where people urged her to pursue a singing career as they all noticed her shining talent. At the moment, Hannah is studying for her A Levels and has a part time sales assistant job in Greggs the bakery.
Hannah wowed the judges with her emotional rendition of Emeli Sande's 'Read All about It' in her room audition. She currently lives in temporary accommodation for young adults following a difficult relationship with her mother at home. Since doing The X Factor Hannah feels as though the competition has brought her and her mother close together again and she hopes to go far in the competition.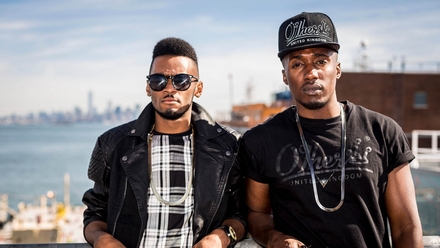 ROUGH COPY
Age: (left-right) Kaz (24), Sterling (25) and Joey (27)
Occupation: Sterling (unemployed), Joey (Sales Assistant in New Look), Kaz (Carpenter)

Sterling, Joey and Kaz have been in band Rough Copy for five years after Kaz put them together. They now live together in a three bedroom house in Croydon where they rehearse and create music all day long.
Rough Copy made it through to Judges' Houses last year but had to pull out when Kaz was unable to travel due to visa issues. They re-entered the competition this year in the hope that Kaz's visa issues could be resolved. However when it looked like they wouldn't be sorted in time for this year's Judges' Houses, the group decided to continue as a duo with Kaz leaving the competition. Kaz was visibly emotional and proud when Sterling and Joey secured their seat and a place in Gary's final 6 at Bootcamp.
After winning a place in the live shows on the basis of their strong performance at Judges' Houses as a duo, Gary felt that the band would be better if they were reunited as a three piece for live shows. Kazeem was recently told that he was being given a second chance to perform with the boys as a trio in the live shows much to his and his band-mates' delight.
As well pursuing their own dream of musical stardom, the boys also teach the art of music to underprivileged youngsters. Having grown up in difficult areas themselves, the boys hope to show young people that a better life can be achieved if they are prepared to work hard and follow their dreams.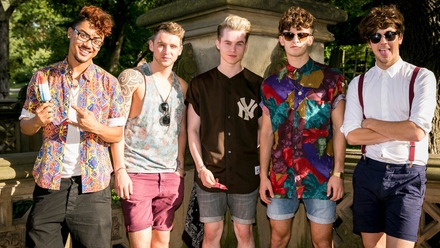 KINGSLAND ROAD
Age: (left to right) Josh (20), Connor (19), Thompson (22), Matt (25), Jay (19)
Occupation: Connor (Bartender), Matt (Bartender), Jay (Waiter), Josh (Bartender), Thompson (Sales Assistant)

Despite the five boys having previously lived together in a cramped, shared house in East London where three of the boys shared one room and the other two shared another, the boys still feel as though they were 'living the dream'.
The boisterous, five best friends' ultimate dream is to win The X Factor, take over America and then hopefully get their own bedrooms with bed-frames for their mattresses. They describe their music as 'dirty feel good pop' and the boys impressed in both their auditions, with Louis saying after their arena audition that it reminded him of when he saw Take That for the first time.
In the lead up to Judges' Houses, Kingsland found themselves rehearsing so much that they lost their jobs. The group cannot emphasise enough how this competition really is 'all or nothing' for them, especially as they have now lost their house and will be forced to go back to their respective homes and families if this doesn't work out.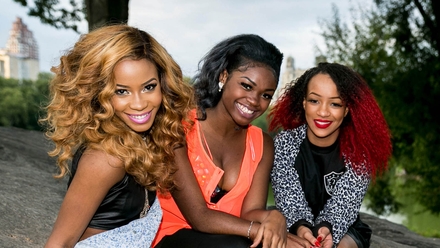 MISS DYNAMIX
Age: (Left to right) - Jeanette (21), Rielle (16), SeSe (22),
Occupation: SeSe (Full time mum), Jeanette (Beauty consultant), Rielle (Student)
Newly formed urban girl band Miss Dynamix originally auditioned separately. SeSe was part of the group Dynamix with two other fellow band members, and Jeanette and Rielle auditioned separately in the girls' category. The judges saw something special in each of them and thought that they were far too talented to let slip from the competition, so Gary decided to put them together at the end of Bootcamp.
Despite only being together for 8 hours, the girls blew the judges away in their Bootcamp audition with their rendition of We Found Love by Rihanna and they stole a seat from Tenors of Rock in the last stage of the competition.
In preparation for the Judges' Houses the girls all moved into SeSe's house, even sharing a bed, and they all agreed that the transition from solo artists to a band has been 'really easy and fun' and they 'laughed so much together'.