Find out who has made it through to this year's live shows in the Boys and Over 25s categories. ***Warning Spoiler Alert***

Last night on The X Factor, Louis Walsh and Sharon Osbourne chose their final 3 contestants who will go through to the live rounds of the show, which are kicking off next week.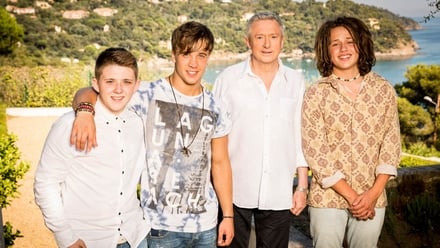 Louis Walsh with his final contestants, Nicholas McDonald, Sam Callahan and Luke Friend
Louis is mentoring the Boys category and was joined by Shane Filan, Nicole Appleton in St Tropez as guest judges to help him make his decision. After a lot of tears – many from the judges – he chose Luke Friend, Nicholas McDonald and Sam Callahan to represent him this year.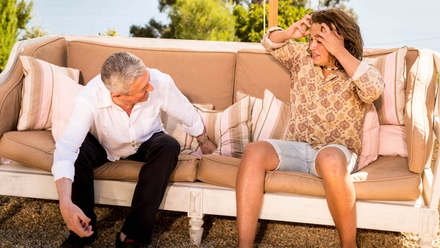 Luke Friend gets the good news from Louis
Luke Friend
Age: 17
Occupation: Student
Music has always been an enormous part of Luke's life. He has fluttered between part time jobs but has always made sure that he prioritises his gigging. He has a very distinctive look with his quirky style and dreadlocked hair which has remained unwashed for 9 months. To keep his look going strong Luke showers with a shower cap on and only washes his hair in the sea! His friends now nickname him Mogli from The Jungle Book and Nicole [Scherzinger] said that he is 'a diamond in the rough'. Luke got a huge reaction at his arena audition, where Gary said 'get used to it, this is your future.' At judge's houses, Luke sang Cannonball by Damien Rice which is an extremely emotional and meaningful song for him as he sang it to his grandpa before he passed away. His ultimate dream is to headline Glastonbury and play at Madison Square Gardens.
On his unusual hair:
"Louis said that now I'm through to the live shows he would make me wash my hair but I do wash it!, I just don't wash it with soap. I wash it with water. It doesn't smell or anything, because otherwise that would be really horrible. If I went in the pool or the sea, for example I wouldn't wash it afterwards because the chlorine or the salt water is really good for it. Obviously it's not good if you want silky smooth hair but it is good for what I want."
On his performance at Judges' Houses:
"Performing Damien Rice's song Cannonball for Louis and the guest judges was really emotional for me. Two years ago my grandpa died of cancer; when I went in to see him I didn't even talk to him, I just sang that song. We were really close; I would always go round his house and perform songs to him, as he was the only person who would always give me an honest opinion."
On getting through to the live shows:
"The whole X Factor experience has been wonderful and now I'm through to the live shows it is a wonderful feeling. The most exciting part of my first week's performance is totally changing an 80's classic and making it completely my style."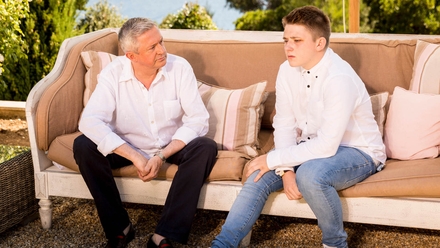 Louis tells Nicholas he will be joining him at the live shows

Nicholas McDonald
Age: 16
Occupation: Student
Nicholas has been singing since he was three years old. He gigs in local venues where his roadie dad loyally follows him around and helps him to set up. Nicholas spends the money that he earns on new equipment.
He is from a quiet area in Scotland where there isn't much room for opportunity in the music industry. Nicholas has waited all his life to audition for The X Factor and wants to give back to his parents after their constant support of his singing. Louis told him after his first audition he would have given his performance 10 out of 10. Nicholas is really enjoying the audition process and for now all he can think about is the live shows and not wanting to go home. Like most other boys Nicholas enjoys playing football.
On getting through to the live shows:
"To be in the live shows is overwhelming and amazing as I never thought I'd be here and I am so thankful to be in this position, I hope I do Louis and everyone proud. I can't wait to perform in front of the nation and show everyone my talent. I just hope make it to the final and do my best."
On his performance at Judges' Houses:
"Judges' Houses was an emotional roller coaster and was really tense at times because everyone was amazing and everyone deserved a chance."
On his family:
"My family are 100% supportive and behind me and if it wasn't for them I wouldn't be in this position today because they have sacrificed everything for my dreams."
On the other contestants:
"I get along with Shelley and Sam because they're the most motherly figures in the house; I miss my mum so they help me out with washing and doing my hair!"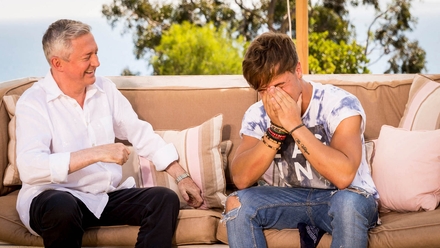 Sam Callahan can't believe Louis has chosen him for his final three
Sam Callahan
Age: 19
Occupation: Barman
Essex charmer, Sam Callahan, works part time as a bar man in his local area, but his main focus has always been on music as that is where his passion lies. He attended Theatre School when he was younger and has also been part of various bands until deciding to go solo earlier this year.
As he embarks on the live shows as a solo artist he knows that he has the backing of friends District 3 and Union J. Sam supported both X Factor bands on a number of gigs in Scotland and enjoyed a solo tour of schools up and down the country earlier this year.
Not only is Sam a talented singer, but he also does acrobatics as a hobby in his spare time. He says that music is his life and his dream is to play gigs like Robbie Williams at Knebworth.
On getting through to the live shows:
"I cannot wait to hear the "Sam Callahan" voice over and the audience when I walk out onto that stage for the first live show. That would really psych me up! I'm buzzing to get out there and show everyone what I'm made of!"
On performing at Judges' Houses:
"Judges Houses was an emotional rollercoaster, but I love doing what I do and it was such a good few days; I didn't want to come home! We got to go swimming, and we went on a beautiful yacht that had a hot tub and three jet skis!"
On his old life:
"When I took my first job in a bar, I told them that my music will always come first and if a gig comes up the jobs got to go and luckily, they were cool with that. I used to spend a lot of my time busking around the country and getting as much exposure as possible."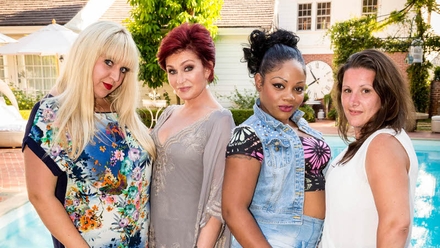 Sharon Osbourne has chosen Shelley Smith, Lorna Simpson and Sam Bailey

Sharon Osbourne is mentoring the girls, and along with guest Robbie Williams in Los Angeles she chose Shelley Smith, Sam Bailey and Lorna Bailey to be in her top three for the live shows, which are kicking off next week.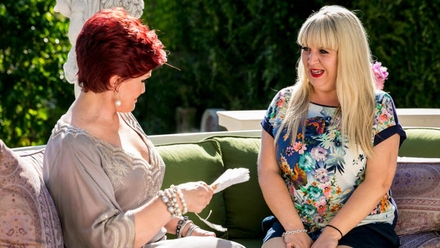 Sharon reveals the news to an emotional Shelley Smith

Shelley Smith
Age: 34
Occupation: White van driver (delivers car parts)
Single mum Shelley lives in a small village in Devon with her seven year old daughter Madeline. She has been a van driver delivering car parts for 15 years and does various gigs at weddings and birthdays. She also does mini performances in her back garden for her daughter and all of her friends.
Sadly, Shelley split from her fiancé last year, but since then has re-formed her image by losing weight, changing her hair style and ditching her glasses. Shelley made it to Bootcamp in both 2008 and 2012 and this year she wowed the judges and the audience in her arena audition getting a standing ovation from both. Shelley feels that the pressure is on for her to continue doing well, in order to change hers and her daughter's life for the better.

On making it through to the lives shows:
"I'm overwhelmed to be in the live shows and feel unbelievably proud that Mrs O sees something and believes in me. I was so shocked when she chose me. Apart from having Madeline, it was the best day of my life so far. It's been such a roller coaster for me this year and I'm happy that The X Factor has given me an opportunity to shine. I can't wait to work with all of the vocal coaches to bring out the best of me."
On the reaction to her performances so far:
"So far the reaction has been lovely. I'm very new to Twitter, but my feed went absolutely ballistic and I even had celebrities tweeting me!"
On what she is most looking forward to:
"I am most excited about seeing the transformation in me; having watched myself back on TV, I have noticed all of the bad habits and silly faces that I sometimes pull – I didn't even realise I did it. Now, I am going to rein all of that in and really focus on my performances.
"I am going to really focus on performing a passionate strong performance walking out onto the stage for the first time and people seeing the best I can be, holding my own!"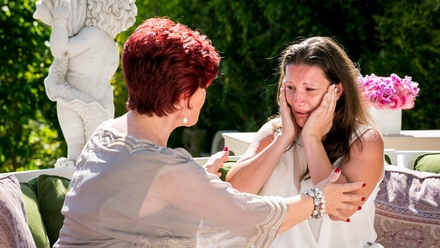 Sam can't believe what Sharon is telling her
Sam Bailey
Age: 35
Occupation: Prison Officer

Sam works as a prison officer and lives in Leicestershire with her husband and their two young children Tommy and Brooke. When at work, Sam often finds herself singing when she is walking down the corridors. Previously, she has worked on cruise ships and has also performed at festivals.
Having devoted the past few years to her family and her job, Sam feels that this is her time to pursue her dream and to do something for herself for once. Sam wowed the judges in her room audition with her rendition of Beyoncé's Listen and lived up to her promise with a rousing arena and Bootcamp audition.
On getting through to the live shows:
"I feel so lucky to be chosen for the live shows as there is so much talent this year. I didn't think I would make it this far at all. I am excited about the impact of my new style on the audience; I can't wait to show them more of my voice and what I can do. I'm not just a ballad singer; I'm somebody that can sing any style – even opera."
On her performance at Judges' Houses:
"This competition is tougher than working in the prison. When I was at judges houses I was completely stripped back with no amplification of my voice or anything; the heat was just bearing down on me."
On Sharon as her mentor:
"Having Sharon as my mentor is amazing; she gave me a massive hug and even made me a cup of tea at her house. The whole thing still doesn't feel real to me."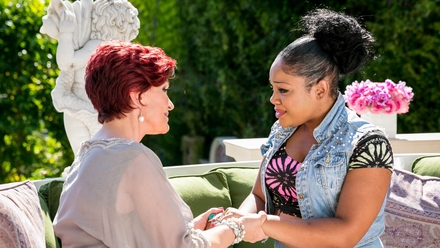 Sharon breaks the news to a relieved Lorna
Lorna Simpson
Age: 26
Occupation: University student
Lorna believes that she has star quality and aspires to be as big as Mariah Carey and Beyonce. She dreams to sell millions of records and wants to show the world what she's made of.
Lorna currently goes to university and is studying business finance. Previously, when Lorna sang she had an alter ego that goes by the name of Luscious, allowing her to feel more confident on stage when she performed; however this time she is just being herself.
She lived in Jamaica for two years and in 2010, where she took part in the islands, 'Tasty Talent' competition where she walked away with a grand prize of £8000.
On getting through to the live shows:
"When I learnt I was through to live shows, I experienced so much joy and happiness at once; it was the best day of my life so far. Sharon believed in me enough and I'd worked hard to hear those words... You're in my top 3!
"I'm most ecstatic about the fact I'm not going to be the one sitting at home wishing it was me! I get to live up that moment in week one belting out a huge popular 80s song, and pouring out my heart while getting some real pop dance moves on."
On her passion for singing:
"I've been singing since I was a baby and I always knew it was what I wanted to do. I've left quite a few jobs as when an opportunity for singing comes up, I'm gone like a shot. That is where my heart is."
On having Sharon as her guest mentor:
"I'm really glad Sharon is my judge, she came back this year so it's got to mean something. I'm the person that can make her smile and think 'yeah she did it for me'. She's such a lovely person."
Find out of which of Gary Barlow's Groups and Nichole Scherzinger's Girls make it through to the live shows when X Factor continues tonight on TV3 at 7.10pm.
 Find FIn