Spring Breakers star James Franco is set to host his own TV show about different genres of art.
The 35-year-old actor ''will document his provocative explorations of the world of art'' in the new series called James Franco Presents, according to his Instagram page.
The show, which premieres in November, will feature Franco's own work and pieces from other artists.
In a press release, James said: "This is a show where content dictates form and form dictates content. It is an art show that is an art piece, meaning the show has synched with the rhythms of my life and work."
Meanwhile, American arts network Ovation said the series will give viewers an, ''unprecedented look at the fascinating projects and real life adventures of James Franco...from his gallery exhibits to his students' films, the innovative series will also provide an exclusive opportunity to hear Mr. Franco's point of view on his most-personal passion projects, most of which have not been seen by the public.''
Ten hour-long episodes of James Franco Presents will premiere in November on Ovation.
Franco will next be seen in the first two episodes of The Mindy Project season 2.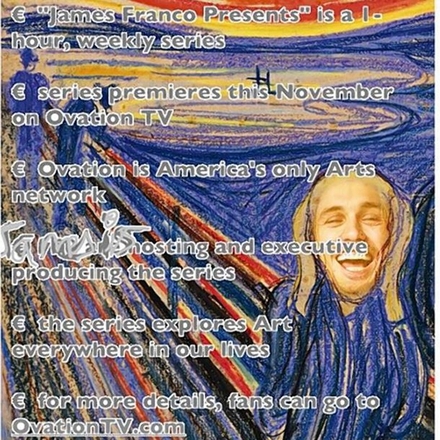 James Franco posted the news about his new show on Instagram