Click through to see exactly what Niall Horan had for dinner when he popped around to visit Rochelle and Marvin Humes last night!
Mullingar lad Niall Horan popped around to Rochelle Saturday and JLS star Marvin Humes' house last night for tea, but ended up being bottle fed by the married popstars instead.
24-year-old Rochelle, who gave birth to her and Marv's first child Alaia-Mai in May, tweeted the snap showing her feeding Niall and Marvin stroking his head.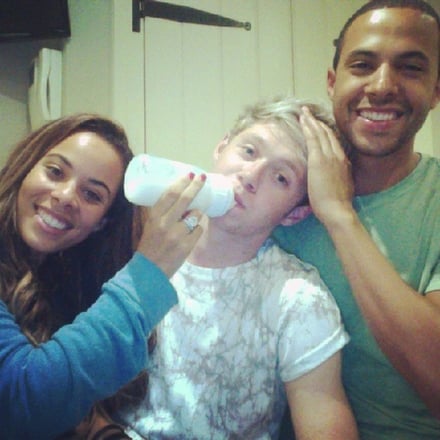 "@RochelleTheSats: @MarvinHumes and I doing the night feed ;) @niallofficial http://t.co/7HRYXFb76T"thanks mammy and daddy

— Niall Horan (@NiallOfficial) August 13, 2013
Horan, who turns 20 this September, lives around the corner from the Humes in Marvin's old bachelor pad. Having just returned home from One Direction's mammoth world tour, Horan tweeted his excitement to meet the couple's daughter for the first time.
Really good laugh last night with @RochelleTheSats and @MarvinHumes, finally got around before Alaia-Mai 's bedtime and met the little cutie

— Niall Horan (@NiallOfficial) August 14, 2013
Rochelle has become somewhat of a surrogate sister for the Mullingar native and previously spoke how she likes to vet all his potential girlfriends
The Saturdays' singer said: "Niall lives close to us, so we make him dinner.
"He talks to us about girls and stuff and I give my input and say, 'You can't go out with her!'
"Any of Niall's girls has to be Rochelle-approved. I'm sure he's a little sod and not innocent, but I like to think he is."