The force was certainly with Star Wars creator George Lucas over the weekend as the filmmaker walked down the aisle for a second time.
The 69-year-old star tied the knot with his girlfriend of seven years, Mellody Hobson, in front of celebrity guests including Ron Howard and Samuel L. Jackson.
Taking to his Twitter page after the ceremony, Django Unchained actor Samuel wrote: ''Let's give a Galactic shout out to Master George Lucas & his bride Melody on this their wedding day!! Congrats!!!!!! (sic)''
Ron Howard also took to his social networking page to congratulate the happy couple, writing: ''George Lucas Melody Hobson wedding was joy to behold Bill Moyers service was beautiful, nothing short of profound. Congrats Mr & Mrs Lucas (sic)."
George was previously married to editor Marcia Lou Griffin, who won an Oscar for her work on the original Star Wars films.
He has three adopted children, all of whom have featured in his three Star Wars films made in the last decade.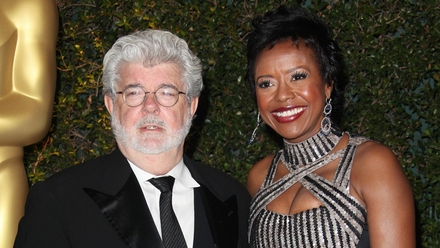 George Lucas and Mellody Hobson