Fair City's Ciara O'Callaghan, who plays Yvonne Doyle in the RTÉ soap, told RTÉ 2fm's Colm Hayes how "lucky" she feels to be at the centre of the recent dramatic storyline.
With the passing of one of Carrigstown's oldest characters, Rita Doyle, her family should have been uniting, instead they were tearing each other apart and blaming Yvonne for her death. Speaking about the emotional scenes where Yvonne delivered a heartfelt monologue from the pulpit at her mother's funeral, Ciara said: "It was very unusual, absolutely, as an actress in a show like Fair City to be literally given the pulpit to be able to perform such a well written monologue, I was very lucky. I had some classic lines.
"When I first read the script, it's high drama and I thought excellent stuff, I think the writers did a great job. For me, I thought I want to make it as real and as believable as possible in honour of Jean Costello herself who played Rita.
"It was really important for me to get that across and for all of us... working on those episodes... everyone wanted to do it justice for Jean's sake, more than anything else, because she was such a well loved character, Rita, on the show.
"It is a huge loss to the show to lose Rita, although she hasn't been acting due to her ill health, we still refer to her almost on a weekly basis, Bela, Yvonne and all the fights about the nursing home so she's still very much been in the show."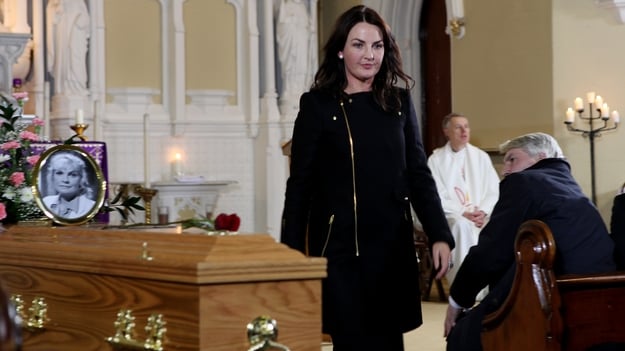 Yvonne shocked her family when she spoke at the pulpit at her mother, Rita's, funeral
Hayes also remarked that it must have been very poignant for the cast and crew to say goodbye to Rita and to the actress who played her for so long: "Completely. We do our read through on a Saturday and we start shooting then on a Monday.
"On the Saturday when we all went in to read these scripts when I said that first line for that episode for the week before when I came into the pub and said: 'Ma, she's dead, she passed away an hour ago', you could hear a pin drop in the rehearsal room, the whole cast almost took a breath.
"It is really sad. Everybody felt it, that's Jean gone now from the show, Rita's gone for sure and Jean certainly won't be popping in and out any more. We all felt that."
For all the latest news on Fair City click on Soap Watch here.