The remarkable true-life story of how a family survived the 2004 Indian Ocean tsunami opens today. Read RTÉ Ten's review here.
Watch Alan Corr's interview with Ewan McGregor and Naomi Watts here.
Watch Alan Corr's interview with director J.A. Bayona here.
There's been a lot of talk recently about film makers tackling "un-filmable" books. It's as if pieces of art, long resistant to cinema's need to re-package and simplify, have become the Holy Grail for certain directors, a monster to challenge, conquer, and, godammit, bend into movie-form. Ten years ago, Peter Jackson proved that this was indeed very possible with his extraordinary LOTR trilogy and recently Ang Lee's adaptation of The Life of Pi has arrived onto the big screen.
However, the sad fact is that CGI has made even the most "un-filmable" works possible as films. Not visually convincing mind, but possible, and that's enough, right? It has the cumulative effect of making these "un-filmable" films seem far less impressive than the Herculean struggles of the pre-CGI age. Far too many modern movies look like elaborate action cartoons where the suspension of disbelief is no longer a concern. But whatever about un-filmable books, here's a film about an un-filmable event - the 2004 Indian Ocean tsunami which engulfed Thailand and many other countries and killed over 280,000 people.
Amazingly, director J.A. Bayona's true-life story of one family's battle to survive does not use any computer-rendered effects. There is not one moment in The Impossible (a title with a triple meaning) that will have you thinking with a shug that the digital boffins have been working overtime in an air-tight lab. This is a triumph of old-fashioned film making. Shot in many of the places where the tsunami struck and using locals and, in some scenes, actual survivors as extras, this is incredibly physical movie-making that never loses sight of the human story. It makes filming a big book about a bloke in a boat with a tiger seem rather less impressive.
Based on the true story of the Spanish Alvarez Belon family, the story is Anglicized for maximum box office ker-ching and stars Naomi Watts and Ewan McGregor as Maria and Henry Bennett, a husband and wife who arrive in beautiful Thailand with their three young sons to see in Christmas and the New Year. All is blissful as gifts are shared and Chinese lanterns are set adrift to become a mini constellation high above the placid Indian Ocean. Of course, no metaphorical calm before the storm is needed - the next day, as the Bennetts relax by the hotel pool, the ground begins to vibrate and a terrifying roar rises up from the ocean.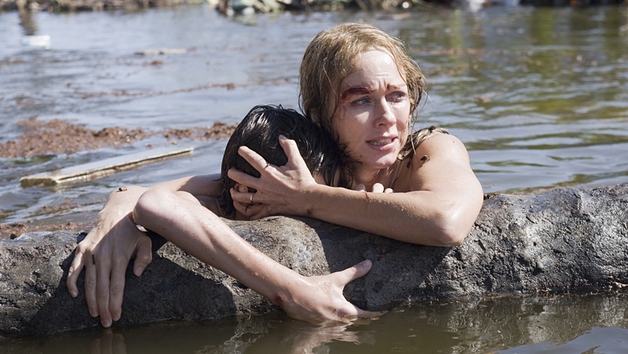 Naomi Watts and Tom Holland in The Impossible
It is the start of a twenty-minute action sequence that by rights should take every Oscar for technical accomplishment this February. The decimation of the hotel and the sight of flailing human bodies is horrifyingly realistic. That giant wave of water engulfs everything, snapping towering palm trees like twigs, crashing through concrete, and swallowing up human lives remorselessly. Bayona had his actors spend three months in a giant pool in Spain to film these scenes and they are never less than very real. The aftermath is just as horrifying and from here, The Impossible becomes a story of brute survival.
McGregor and Watts, two very good actors well used to roughing it for their art, have worked hard here but they are both in danger of being acted off the screen by film newcomer Tom Holland. As the slightly distant eldest son, Lucas, he has to take on the adult role and care for his injured mother and it is largely Holland who carries the movie as he becomes the character around which events revolve. Bayona is very good at small moments amid the huge canvas of natural disaster - as the tsunami subsides, there is a touching scene when an elderly survivor played by Geraldine Chaplin comforts one of the younger sons atop a mountain on a starlit night. "Many of those stars are dead," she tells the young boy, a poetic acknowledgment of the unknowable scale of human loss all around them.
This is a gripping and inspiring story of blind faith and amazing fate made with real technical flair and serious-minded dedication from the director and cast. The very brave Bayona deserves huge respect for making The Impossible possible.
Alan Corr