Noel Gallagher opens up to Gay Byrne about his brother, his estranged father, and his drug years on an episode of The Meaning of Life this Sunday night.

The former Oasis front man who is now enjoying success with his new band High Flying Birds, tells Byrne about the things he believes in, the things he doesn't and the thoughts that make him forget his own lyrics on stage.

In the hour-long interview which took place in Dublin's Merrion Hotel last July, Noel talks about his upbringing in inner-city Manchester and the night his Mayo-born mother Peggy took Noel and his brothers Liam and Paul and fled their father Tommy.

Gallagher insists that when he was growing up in Burnage, there was nothing unusual about coming from a broken family. But his childhood still left him and Paul with stammers, which needed correction through speech therapy.

He also recounts how he played truant for months from a school where his mum was a dinner lady, by sneaking in at lunchtimes and then sneaking out again.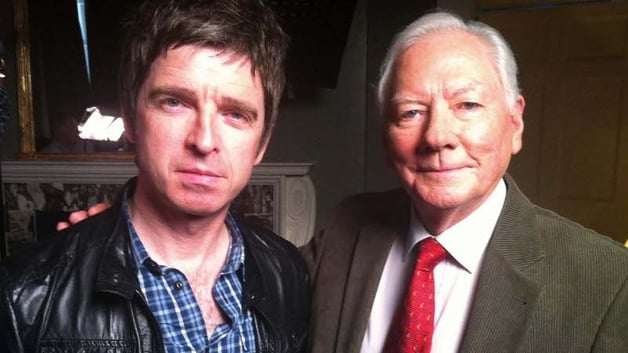 Gay talks to Noel on The Meaning of Life this Sunday night at 10.30pm on RTÉ One
On matters of faith, Noel says that, like most Irish mothers, Peggy raised the boys as regular Sunday mass-going Catholics, until he was a teenager, when his Mum stopped making them go. He also reveals that his wife Sarah is a regular church-goer and he says that he is envious of her faith.

Byrne and Gallagher have met several times already, the first time was in 1996 when Peggy told Noel that if he only did one interview in Ireland, it should be with Gay on The Late, Late Show.
Sixteen years later, it was apparently Peggy who once again persuaded her son to record an interview with Gay for The Meaning Of Life.

"I have never met Peggy but she seems to hold me in high esteem," Byrne told the Irish Independent last July. "When Noel came on The Late Late Show in 1996, it was on Peggy's orders, and I'm sure she had some hand in him doing this recent interview."