The struggle for Irish independence and the arrival of Shirley MacLaine as new character Martha Levinson is set to cause high drama in the third series of Downton Abbey.
"The Irish Question is very important to this series of Downton," series creator Julian Fellowes told the RTÉ Guide at the launch of the third season of the period drama.
"At the time in the early twenties, the big thing on front of every newspaper in Britain was Ireland and it would have been quite wrong not to deal with it.

"I'm also rather interested in Irish politics and I was brought up very firmly on the side of Home Rule and Irish freedom," added Fellowes. "I was instructed in such matters by three fierce aunts. So it's nice to have the opportunity to exploit that interest."

The return of chauffeur Branson (Alan Leech) and his bride is the spark that inflames the question of Irish freedom from the Empire. The arrival of Shirley MacLaine as imperious Martha Levinson, mother of Cora Crawley, also causes huge tension in the new series.

Apparently, MacLaine heard about Downton Abbey from her friends at the Malibu hair salon she frequents and Fellowes was delighted to have her on board. "If it wasn't Shirley, I can't think of who else we would have got," he said. "We wanted that utter cultural difference so that she would come out of a car and everybody would go `Wow!'"

"We were open-mouthed when she arrived on set," says Laura Carmichael who plays Lady Edith Crawley on the show. "The director told us not to look too excited when she stepped out of the car. She was our grandmother after all and not Shirley MacLaine."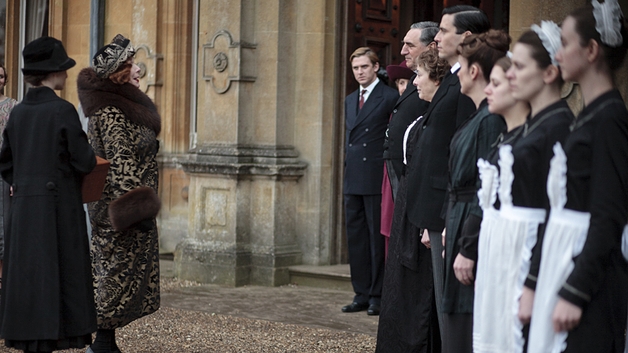 Martha Levinson (Shirley MacLaine) arrives at the big house in series three
The new series starts on ITV this Sunday (TV3 screens it on Wednesday) and sets the scene in the spring of 1920 where we find Robert The Earl of Grantham (Hugh Bonneville) facing ruin after his investments have gone in smoke in the post-war economic downturn.

At the launch of the third series in London, Bonneville discussed how he stole the show at Downton's launch in LA when he whipped off his shirt to reveal a T-shirt reading "Free Bates" – a reference to the imprisoned valet who is played by Irish actor Brendan Coyle.

"I'd never done anything like that before," said Bonneville. "One of the PR girls went out and bought a T shirt and some stencils and spent the afternoon colouring it in.
"It just so happened that the very last question of the press conference as for me. Halfway through my answer, the jet lag really hit me and I couldn't even remember what the question was so that's when I decided to just do it."