Ryan Tubridy has said that he thinks The Late Late Show is too long. Speaking to this week's RTÉ Guide, the presenter says he believes that the show's format can be improved.
"I'll be honest, I reckon it's too long by a part. It should be a three-part show, a lean mean fighting machine," he says. "It sprawls at four parts. I don't know anyone who could stay the course that long for a chat show, sometimes including myself, and I present it! The era of the show that ends at nearly midnight must be coming to a close. I haven't said that before but I'm saying it now."

Tubridy, who hosts a special 50th anniversary edition of the show this Friday night with "over 100 guests" including Gay Byrne, Pat Kenny, Liam Neeson, Tommy Tiernan and Sinéad O'Connor, also tells the RTÉ Guide that he believes last year was his toughest.
"2011 was not a good year for me. If I was marking my own card it would have read 'could have done better'. I think I had a lapse in concentration. I can't identify one thing but it was a year that I'd like to have done again and done properly."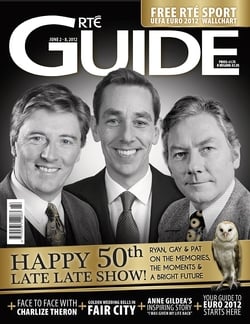 The three amigos on the cover of this week's RTE Guide
Asked if it had anything to do with his interview with Ronan Keating, which attracted flak for his failure to quiz the pop star on his personal life, Tubridy says:
"Unfortunately, that is following me around like a very unpleasant smell. It keeps coming up, which is a pity because when you do so much TV and people keep throwing that three-minute moment in an interview at you.
"I used to be concerned about criticism because I took it personally but then I realised the critics come and go. The Late Late Show stays. I stay. I keep doing my job.
"I generally don't read criticism these days and if I do, I don't care because the answer is in the people at home on the couch watching to enjoy it, rather than watching to give out about me or the show or whatever. We've had a 48% [audience share] in the last couple of weeks and that's big in a land with gazillions of channels."