Niamh Bushnell, of nonprofit TechIreland, brings us the first in an occasional series of snapshots offering data and insights on Irish innovation nationally and globally.
This day last week I was on the stage of The Set Theatre in Kilkenny - thanks to an invite from John Cleere, organiser of the TechThursdayKK meetup, and one of our regional advisors.
There I was, landing down from Dublin to tell the locals how innovative they were. But the data was good, the reception was warm, and the feedback flowed over pints at the end of the night.
TechIreland is tracking 57 Irish product innovation companies across Kilkenny, Waterford, Carlow and Wexford, and after last week, there's a couple more to add too.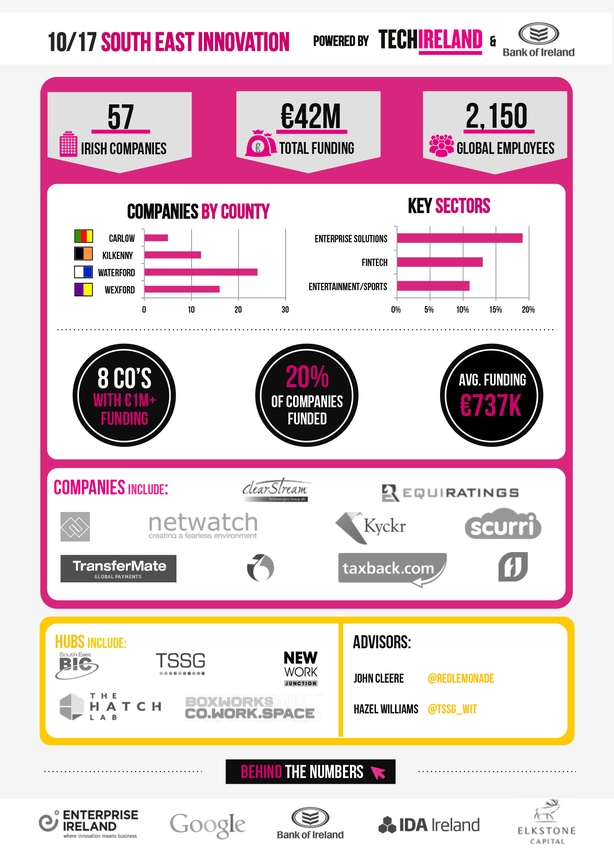 One on purpose omission in our South East snapshot is Glanbia, which has more global employees than the rest of the companies put together. Tracking innovative food and beverage companies is an important next step for TechIreland. Especially companies like Glanbia who are global leaders, and role models for all Irish companies.
Back at HQ here in Dublin, we may have learned to prize fact over opinion, but that doesn't mean we can't have favourite companies. The logos of some regional favourites are included in this snapshot so click anywhere on it to go to our live backend database, learn more about these companies, and see full profiles for each of the 57.
Thanks to Bank of Ireland for sponsoring this, and all of our upcoming regional snapshots. Thanks also to our advisors John Cleere and Hazel Williams for helping us keep our south east data real. And to our newest media partner, RTE Digital, who'll be showcasing this great series on regional innovation for TechIreland.