As winter recedes amidst tentative steps towards spring, talk turns more intensively to sport. Not that sport is ever too very far away from many conversations.
But as we shake off winter's slumber and make our way slowly back to the gym, the playing field, the pool, the astro-turf and the road, a new season beckons.
Stadiums beckon too, the terraces and the pitches. And all the anticipation that comes with that. Up quickly, The Six Nations, the real harbinger of spring. The national football and hurling leagues too. And the domestic soccer season not far behind. And as we engage in the yearly-ritualized conversation, speculation has already started on whose year this will be ?
I have already heard it posited that this is the year in which Clare's hurlers will fully realize the promise they've previously shown at under 21 level. Music to my ears given my county of birth. That against the tide of consensus, the four-in-a-row is beyond Dublin. That Scotland will convert their much-heralded bravery in rugby Championship style. And that it's a two-horse, Cork versus Dundalk race, for national soccer honours.
The fact that those of us who take an interest in these things talk a lot about sport is a given. But I think we also need to talk about how we talk about sport. In particular, I think we need to talk about the way in which war has insinuated itself into the way we talk about sport. And more than other sport, rugby is particularly prone to citing war imagery. And others are catching on.
'Leinster look to kill off Warriors'. 'Ireland roll out big guns for Samoa'. 'Irish players to miss out as squad takes shape for do-or-die mission'. 'The extraordinary life and times of a lionhearted war hero'. 'War of mutual contempt broke out between Ireland and New Zealand rugby this week'. Munster v Leicester: 'When two European titans go to war'.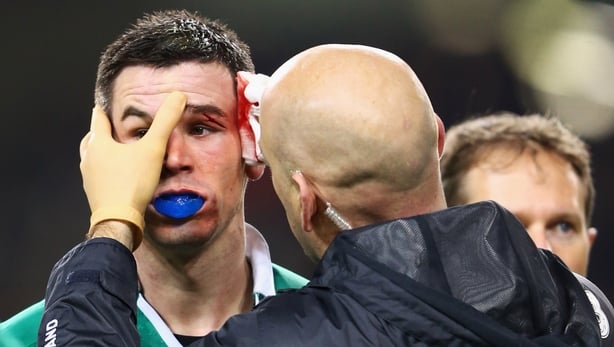 The reality, you'd think, is that Irish people have anything but contempt for the people of New Zealand. And I suspect New Zealanders feel the same about us. While a tridominium of Germany, Britain and the United States shared, albeit unequally, control over Samoa in the late nineteenth century, talk of rolling out the guns against Samoa from a northern hemisphere country seems inappropriate, to say the least. And in this country we know all too well the pain of war, particularly in Ulster, so that it seems odd that we now invoke war imagery when Leinster and Munster meet on the fields of play.
And there's more.
Some of those who have played the game and who have felt its full impact frequently invoke war metaphors Especially those who now write or commentate on or around the game
Tony Ward – 'A kick in the solar plexus for rugby in this country, but we can bounce back': Neil Francis: 'Dunkirk spirit could derail Kiwis' ruthless war machine': Gordon D'Arcy: 'Tough day on Lansdowne Road after RWC hammer blow'
All these players have played with distinction for Ireland. And the superbly skillful Tony Ward has the added distinction of refusing to play for the British Lions in South Africa once he witnessed the impact of the white-inspired war of apartheid against the Black people there. And one that arguably disrupted his subsequent playing career. In the only conversation I have ever had with Tony Ward, he reflected on that decision:
"I went to South Africa in 1980 and when we arrived in Johannesburg airport I came face to face with the reality of apartheid when I went to the toilet and saw the sign "Whites Only Toilet – No Blacks". Despite the fact that we got red star treatment I was really upset by what I saw. The following year when I got the opportunity to go again, I thought 'hold on - rugby represents White oppression of the Black people and the only way I have of saying that I don't agree with this is not to travel."
It was an honorable decision. And one that has not been forgotten. Tony Ward was not alone. Moss Keane, Hugo McNeill, Ciaran Fitzgerald and Donal Spring did likewise.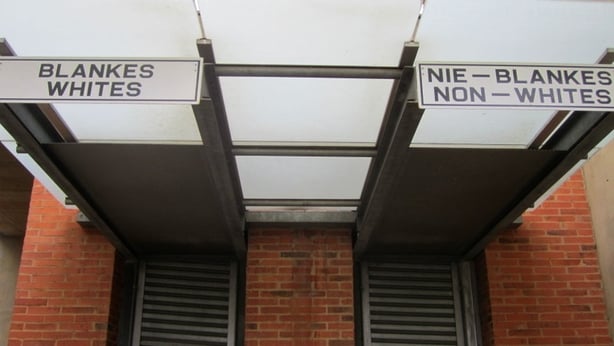 The language of war and violence runs counter to what I imagine any of those former players might regard as sport. That the powerful and majestic fluidity of the New Zealand rugby team could be constructed as a war machine is also, I believe, beyond their imaginings and is a gross distortion of what they do. Ireland may have not succeeded in its bid for the Rugby World Cup last year but nobody was injured and nobody was killed during the process.
But rugby is not alone in its appropriation of war imagery.
Last year in the lead-up to the World Cup qualifier between Ireland and Austria, Roy Keane declared that that Ireland "are going to war" with Austria and that we need lads to "put their bodies on the line".
It wasn't war. We were playing a football match. It was, to borrow a phrase, "only a game".
We need to talk about war. Actual war.
About the insufferable pain it causes. The dead and the slowly dying. The injured and the injuries that never go away. The destruction it brings. The mayhem it causes. The fear it induces. The impoverishment that results. The grief that clings on. The sheer loss and the waste of it all. And the pain. The physical and emotional pain. Bodies on the line.
There is no glory in war. There is no heroism in killing other human beings. Whatever the cause. There is nothing heroic in invoking war. Even as a metaphor. Whatever the cause.
And yet the war mindset runs deep. We invoke war as if it is something gallant. To be celebrated. And we do it all the time. Even when we are seeking to do the right thing. War on Want. War on Poverty. War on Drugs. War on Terror. War on Waste. War on Everybody. Want and poverty can never be alleviated by war. War exacerbates poverty and want. The War on Drugs invoked by former US President Richard Nixon - which in reality was designed, according to his then domestic policy chief John Ehrlichman, to target left-wing anti-war protestors and African Americans - had very little to do with drugs and nothing to do with alleviating the suffering caused by chaotic drug use. The War on Terror has just done that: terrorised millions of people. An estimated 1.3 million lives lost. The figures vary. It's a matter of take your pick. But nobody disputes the carnage that has taken place. Killing on a scale that is beyond imaging. And then there's the injured: those that envy the dead.
Among the latter is a former Syrian international basketball player, Nour Aslo. On 7th February, 2015, at the age of twenty-six, she went to watch Al-Jalaa men's basketball team play just off Sadallah Square in Aleppo. It was her last day alive.
Recently, while in Aleppo, I met her sister, Reem, also a basketball player of distinction and she told me what happened.
"We received a phone call. We were told that my sister was injured at Sadallah Square and she was transferred to the hospital. At the time we only knew that she was injured. We didn't know the details."
On arrival at the hospital, the awful truth was revealed.
"When we arrived at the hospital, she was in the intensive care unit. After a while, doctors came and told us that my sister couldn't make it. The bullet has gone through her heart and killed her."
She had been killed by a sniper.
War's reality.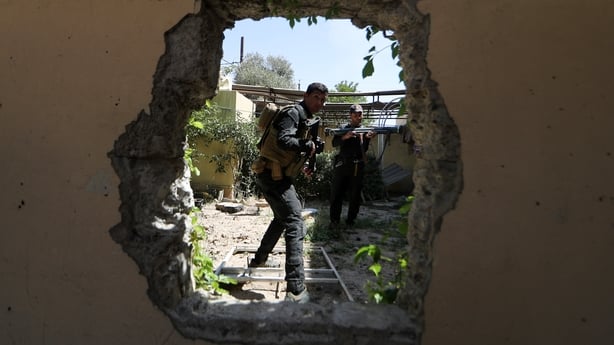 In the torrent of statistics we have lost track of war's insidious presence. As we have become inured to all its horrors. And there are countless victims of war. All over the world. Countless victims of cluster bombs that continue to maim and kill. Countless shattered limbs that ache at every move. Countless hours of sweated nightmares. People living and re-living that one transformative moment. In the morning and in the evening. In their waking and in their sleeping.
In places we no longer hear or indeed care much about. Yemen. South Sudan. Somalia. Central African Republic. The Democratic Republic of the Congo. Mali. Laos. Places where no oil flows. Places that are not of any strategic interest. Places where some of the poorest of the world's population live.
On the day that Ireland played Austria, on the day when the team management was requested the players put their bodies on the line, 20 people were killed in Mosul, Iraq, in a coalition airstrike. Nine were killed in Kirkuk. 1 in Sinjar and 1 body was found in Baghdad. There are no records of the number injured.
As I write, word has come through from Damascus that nine people have been killed in shelling in the old city, including 16 year-old Rita Alied and a three year-old boy named Illias Elkori. Over 20 others were injured. Two teenage friends of Rita Alied were seriously injured and may lose limbs.
War is not a sport. And sport is not a war. It is not the place for chilling declarations: the breaking of bodies. Sport is not a matter of life and death. Bill Shankly was wrong. It is not much more important than that. And we should stop pretending that it is.
There are other metaphors that we can invoke to reflect the exhilaration and exuberance of sport. The sheer athleticism, skill, determination, perseverance. That which animates us, thrills us, at times frustrates us. That which draws us back again and again. That which feeds our conversations on long winters evenings.
War is or ought not to be one of them.
We need to talk about the reality of war.
Dedicated to the memory of Michael King, 1963 – 2018. A great sportsman.
Peadar King is the producer and presenter of the RTÉ global affairs series, 'What In The World'. The last episode in the current series reports from Aleppo. RTÉ One, Tuesday, February 6th at 11.10.