To celebrate his 75th birthday, we present an archive interview with Van Morrison, talking to Miriam O'Callaghan - below, Miriam remembers a chat to remember with an Irish music icon...
It's a very distinctive speaking voice, so I knew immediately it was him outside the door. Even though I have interviewed probably thousands of people, I was suddenly very nervous. I really wanted this to go well. This man rarely gives interviews.
They say you should never meet your heroes in case they disappoint. I have adored this man and his music for decades, and after twenty years of trying and failing to get an interview with the musical genius that is Van Morrison, last Saturday I got that interview. Far from disappointing, Van the Man was an absolute joy.
I think like many people, not just here in Ireland but throughout the world, the music and songs of Van Morrison have often been an incredibly important soundtrack to my life. Different songs at different times, and for different reasons, many very romantic, others soothing and healing, some exhilarating, many mystical.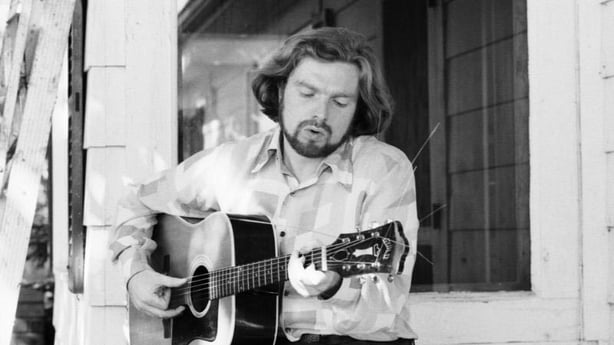 His genius is widely acknowledged and accepted. I was too young when it first came out to be aware of Astral Weeks, but in recent years I have realised that it is regarded by many as perhaps the greatest album ever made.  But Van comes with a reputation. Even in the days running up to our interview last weekend, almost every person I met was really excited that he was giving me an interview, but then virtually everyone spoke about how difficult he apparently is, moody, angry, loathes the media. They all wished me well but the general consensus was definitely that it's great he was doing an interview, but it was unlikely to go well as he was bound to be true to form, difficult, tetchy, rude, and that he would give pretty clipped and short answers.
They were all so  wrong – he could not have been nicer.
I first fell in love with Van and his music around the early 1990s. At that time, I was working both as a presenter for RTE and for BBC Newsnight, where I was responsible for Newsnight's Northern Irish coverage. It was a very dark time in the history of the Troubles, the North was descending into hell once again, and as I travelled around the North – often going from atrocity to atrocity -  it was the music of Van that kept me going. I loved listening to him. Here was this remarkable Belfast talent, who sang about his home place with such beauty and tenderness and reverence – it made me realise that one-day things could be better in the North.
And so they are.
On the day of the Good Friday Agreement in 1998, I presented Prime Time from there. There was such a sense of celebration and relief, and the unofficial peace anthem for the peace process that everyone was singing and playing all over the world that day, was Van Morrison's song Days Like This. It still reminds me of that joyous moment.  It was also around this time that I first tried to get an interview with Van and over the following twenty years, I never gave up, believing one day that he might say yes. After all, God loves a trier. To give due credit to many others, lots of producers in TV and radio tried on my behalf down the years, I tried myself, I wrote letters to Van, I asked Howard Hastings whom I know and who is a really lovely man and close to Van to ask him on my behalf, I asked my good friend the great TV Director Dave Donaghy to put a word in as he knows Van well, but all to no avail.
Then on Friday November 30 last, at 9 in the evening, I was sitting at home in my kitchen drinking a glass of wine when I decided to text a great RTÉ radio producer called Alan Torney, who used to produce my Sunday with Miriam show, to compliment Alan's brother Diarmuid, who is an academic,  on an article he had written for the Irish Times that day on climate change. Alan texted straight back saying thanks and then wondered had I put a bid in for Van recently as he noticed that Van had a new album out and that he'd recently done a print interview. He also sent me the email of the person now looking after him, so thinking that after twenty years of trying I hadn't anything to lose and certainly not expecting anything to come from it, I sent a short paragraph to Kerry – the person looking after Van's requests – asking for an interview.  I let my wonderful radio producer Sian O Gorman know that I had put the request in. Sian now produces my Sunday morning show, absolutely brilliantly,  and she too had been asking for an interview many times on my behalf, and then I went back to my wine and the Indian take away that had just arrived, and I thought no more of it.
We need your consent to load this rte-player contentWe use rte-player to manage extra content that can set cookies on your device and collect data about your activity. Please review their details and accept them to load the content.Manage Preferences
Celebrating the music of Van Morrison, with poet Paul Muldoon, Morrison biographer Johnny Ronan, colleague and friend Siobhan MacGowan and Dr Peter Mills author of "Hymns To The Silence: Inside The Words and Music of Van Morrison" 
The following Thursday when I was preparing to present that night's Prime Time, I got a really lovely mail back from Kerry saying yes, Van would be very happy to do the interview, and would December 15 at 3 pm in The Culloden Hotel in Belfast suit? Happy days  I thought.  I let Sian know immediately and we were both very excited. Mick McLoughlin, a superb RTÉ Radio sound OB engineer was brought on board and we all looked forward to our date with Van. Sian produced a wonderful interview brief for me, I added some questions, the day arrived, and we all headed up. My daughter Jessica, who is also a big fan came along too and helped share the driving so I could concentrate on my questions.
He was gentle, thoughtful, kind and oh so polite. Even a little shy.
Mick and Sian had everything set up and ready to go by 1.30. There was tea and coffee and lots of treats left out for us, which was very thoughtful. I wasn't one bit hungry, I was nervous. Although excited about chatting to him after all this time, I was worried – and so was everyone in that room - that he would live up to the difficult reputation he has, and we would end up getting a poor and probably very short interview. I wanted it to go really well. At 2.50 exactly, I heard him outside the room talking – it's such a distinctive voice - and then he and Kerry came in.  They could not have been nicer. They were really friendly, Van was very warm, chatted to everyone, we sat down opposite each other, he on a couch and me on an armchair, and we did the interview. It lasted for nearly an hour, and I honestly think he would have been happy to chat for longer. He wasn't plugging his album at all, he wasn't plugging anything  – I brought it up – he was just happy to chat about music, his influences, his work, the Belfast of his childhood, his parents, and he often talked at length. He wasn't at all clipped, he was gentle, thoughtful, kind and oh so polite. Even a little shy. Van was everything I hoped and prayed he would be. At the end, he was very happy to pose for photos, sign some vinyl, and for a man who rarely does interviews, he even said he enjoyed the interview.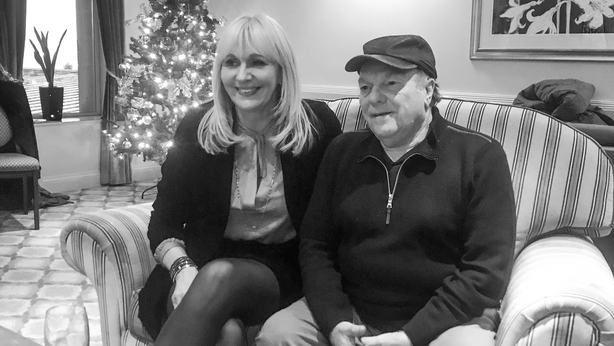 Everyone has a favourite Van Morrison song, and in my last question to him of the interview, I told him that mine was his love anthem Have I Told You Lately that I Love You.  I fell in love with my husband Steve, another Belfast boy, listening to that beautiful song. I didn't tell him that, but I did ask Van if it meant a lot to him that so very many people have fallen in love listening to that song, and really gently, he said yes.
As a touching postscript, on Monday afternoon of this week, Sian and I unexpectedly received an email from Kate Cody who works with Van. In it she attached a beautiful old recording of Van's mother Violet, who died in 2016, singing St Louis Blues. Kate said Van asked her to send it on to us, as Van and I had talked during the interview about his Mum. I had heard his mother had a great singing voice and asked him if it was from her, he got his. When you listen to this recording of Violet Morrison singing St Louis Blues, which we have now included in our interview, there is no doubt where Van Morrison got his majestic voice.
Do meet your heroes. Van the Man was a joy to meet and interview. There are Days Like This.