For the Herstory on RTÉ project, we asked schoolchildren across Ireland to nominate the women who inspire them, and to tell us why. From hundreds of entries, 6 were chosen to become the subjects of original RTÉ animations. 
Watch the story of Laura Geraldine Lennox here, and read the winning submission below...
Laura Geraldine Lennox
Nominated by Kate Fitzgerald, Dromahone N.S., Co. Cork
Laura Geraldine Lennox is my great-great grandaunt. She was born in Durrus, West Cork in 1883 and was a suffragette. She lived in Cork city before moving to London. On Sunday 21 June 1908, 500,000 women, all dressed in green, white or purple marched to Hyde Park looking to get the vote. Laura organised the Irish women taking part. It must have been amazing, so many women all at once walking and singing together.
In 1910 Laura worked on a newspaper called Votes for Women. She became involved in the Women's Social Political Union. The WSPU could get quite violent, breaking windows and protesting. In 1912 Christabel Pankhurst wrote a new newspaper called the Suffragette. Laura was the sub-editor. Christabel spent a lot of time in France, so Laura did most of the work.
On 30 April 1913, the offices of the WSPU were raided. Hammers, leaflets, bottles of flammable liquids were all seized. Laura was arrested. She was sentenced to 6 months in Bristol Prison. She went on a hunger strike. She became so ill. A petition was started in Ireland for her release. She was released a month later under the Cat and Mouse Act. Prisoners were released until they were well enough to be recaptured. A week after that she was arrested again released again four days later. Her friends, the Harbens, looked after her at this time.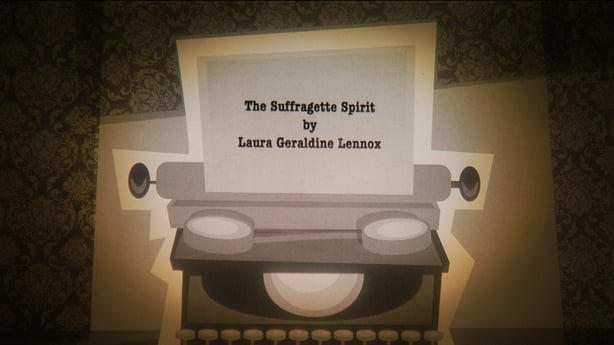 One night on her way home she saw that there was two policemen waiting outside her house. The Harbens gave her money to escape back to Cork. She received the Halloway Brooch and Suffragette Medal for her hunger strike. Mom has these. When she was in Cork, she set up a branch of the WSPU in Cook street and invited Flora Drummond to speak in City Hall. Flora was nicknamed the general because she would wear military uniforms. The Womens Franchise League and Hannah Sheehy Skeffington didn't like Laura setting up an office in Cork. They thought it might get violent. They wrote to the Pankhursts to find her work in London. They didn't need to worry for too long, as World War 1 broke out shortly after that.
The Harbens owned the Majestic Hotel in Paris which was converted into a makeshift hospital to help soldiers injured in the war. Her brother was in the war so he went to help the Harbens and was the administrator of the hospital, ordering supplies, food and equipment. She would sit with the soldiers, keeping them company and sharing stories. One soldier was dying and she sat with him when his arm exploded gangerous gas all over her. She suffered pains and swollen wrists, arms, legs and ankles for the rest of her life. Despite being so sick, she would be lifted into the hospital and would type with one hand. When the war was over she was awarded the 1914 Star. This medal was normally for soldiers or nurses but it was granted to her for all the work she did when the war broke out. Her brother died in the war.
She came back to London and set up a typing agency to help women who had lost husbands in the war get money. She was also one of the founders of the Women's Pioneer Housing to help women and children find homes where they would be safe. Once London flooded and she swam through houses waking people to get out. She once caught a burglar and sat on him until the police came.
Granny said she was tiny so tiny. She is our hero.