For the Herstory on RTÉ project, we asked schoolchildren across Ireland to nominate the women who inspire them, and to tell us why. From hundreds of entries, 6 were chosen to become the subjects of original RTÉ animations.
Watch the story of Máire Ni Chinneide here, and read the winning submission below...
Máire Ni Chinneide 
Nominated by Sadhbh King, School St Pius X GNS, Dublin 
My heroine is Máire Ni Chinneide. She was the founder of the game of camogie, and I think that for that reason, she deserves to be recognised and celebrated. I absolutely love playing camogie, and can't imagine what life would be like without it. Máire's legacy is that she has created an amazing sport for girls like me, and for 100,000 other girls and women in Ireland and all across the world.
Máire was born in 1879 in Rathmines, Dublin. She attended school at Muckross Park in Donnybrook, and then she won a scholarship to University. She studied Irish and she was very involved in the Irish language. Later, she became a teacher and a writer. She translated Grimms' Fairy Tales (they include Cinderella, Rapunzel and Hansel and Gretel) into Irish. She was also the editor of the story of Peig (Peig Sayers, from the Blasket Islands in Co. Kerry) –my Dad and aunts tell me that they remember studying this story in school many years ago! In 1903, with the help of both Cáit Ni Dhonnachada and her brother Tadhg, Máire Ni Chinneide led the group who started camogie.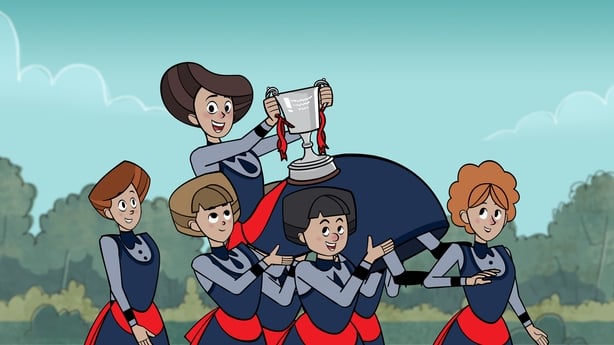 They wrote the rules for the game and they played mainly in Phoenix Park. They wore a skirt that came down below the knee, a long-sleeved blouse with a sash around the waist, and long stockings with canvas boots. She scored the very first goal in competitive camogie in 1904, and she became the President of the Camogie Association in 1905. The first Camogie All Ireland (which had 10 counties taking part) took place in 1932. Máire was aged 53 at that stage, and didn't play in the actual match! The All Ireland Trophy is actually called the O Duffy Cup , because a man called Sean O Duffy from Mayo donated a silver cup for the competition. Dublin won that year! There is however a Máire Ni Chinneide Cup for the Junior B Competition.
Camogie requires great fitness, skill and dedication. I think that camogie is a very important part of our Irish culture and heritage. I am very proud to carry around my hurl. It made me sad when I read that in the early days women were so nervous that they used to wrap their hurls in brown paper to go out in public. Thanks to Máire Ni Chinneide, this is definitely not the case today! Máire Ni Chinneide is a pioneer for girls in sport. She is my heroine and I think that more people need to know about her.