WE present an extract Juno Loves Legs, the new novel by Karl Geary.
Juno loves Legs. She's loved him since their first encounter at school in Dublin, where she fought the playground bullies for him. He feels brave with her, she feels safe with him, and together they feel invincible, even if the world has other ideas.The two find their way from the backstreets and city's pubs to its underground parties and squats, where, on the verge of adulthood, they find a breathing space to begin their real lives. Only Legs's might be taking him somewhere Juno can't follow.
---
'You shouldn't be doing it, Juno, you'll be seen,' says Mam.
'It's coming – I hear it,' I say. Stood at the window, I saw its headlights.
'Close the curtains,' she says. I went to the door and was about to run. 'The bag, Juno, don't forget the bag. Please God, be sure you're not seen.'
Underneath her worried face I could see a small hint of excitement and, as we were doing it together after a fashion, I knew I could do anything, frightened and all as I was.
'I won't be seen.' I gripped the bag and darted out the front door. The small truck passed and brake lights came on as the driver slowed to a stop, spilling out all that red light onto the wet road behind. The truck lurched a little and pebbles of coal fell from the back. I heard the handbrake pull as the driver emerged, went to the back of the truck and, as he opened the hatch, a few more pebbles fell. He took hold of a sack and effortlessly heaved it onto his shoulder, walking it up Missus G's path.
We need your consent to load this rte-player contentWe use rte-player to manage extra content that can set cookies on your device and collect data about your activity. Please review their details and accept them to load the content.Manage Preferences
Listen: Juno Loves Legs author Karl Geary talks to Ryan Tubridy
I ran, dipping under the truck, quickly gathered up the small lumps. But in the dark the road's black and the coal's black were the same black and my fingers keep scraping off the wet tarmac. I got what I could before running back to the safety of the path. When the driver walked out of Missus G's I thought he saw me, but he said nothing.
Missus D's. I heard the idling engine rev and could smell diesel and the truck rolled on to its next stop. I walked past again, watching. The driver rested Missus D's coal on his shoulder and used his free hand to sweep coal from the back of the truck and let it fall, tap- tapping at his feet like tunes from a miner's axe. He began to whistle then, up the garden path, continuing that lullaby and alerting me to his whereabouts.
I ran again and bent low, working through the small mound, wet coal dust as far as my sleeve, filling my bag to bursting. A moment and the man, not whistling now, was standing over me, peering down, his face peppered with grey- white stubble. The bone of his cheek high and sharp. I couldn't say the colour of his eyes, but they shone in the dark.
'You missed one,' he says and reached across the pallet and plucked an enormous rock from the platter and put it in my bag. 'Been saving that one.' He walked around the truck, whistling again.
Later it was glowing hot in the grate, and I'd scrubbed my hands as clean as they'd scrub and I'd decided my nails would never be clean again and gave up on them. I hadn't told Mam about the man, wanting for her to think of me as her hero. She took down her wedding dress, and had me put it on. This material she handled differently than other material. She took it in her hands and carefully unfurled it like an old secret history: the celebrations and the crises, the embraces and departures.
She opened the zip, and I raised my arms over my head. The smooth of the satin passed down my body, falling in places it should not fall. I was reminded Mam was a woman and I, I was not. Still, as the fabric touched my skin I was overcome. When Mam's back was turned I ran my hands along it, coal dust still bedded under my fingernails, pressing it where my flesh was bare. I thought of the scores of girls who had stood as I stood, with a secret feeling, set ablaze in their mam's kitchen.
Mam knelt before me and started to shape and pin. I tried to remember the last time I felt me mam this close, but I couldn't. I remained silent, lest I say the wrong word and ruin it. After she had me pinned she told me to walk the length of the kitchen and she watched, she really watched. She was thinking about something else when she said casually, a small hint of surprise, 'You're a pretty thing, Juno. Not beautiful or that, pretty.'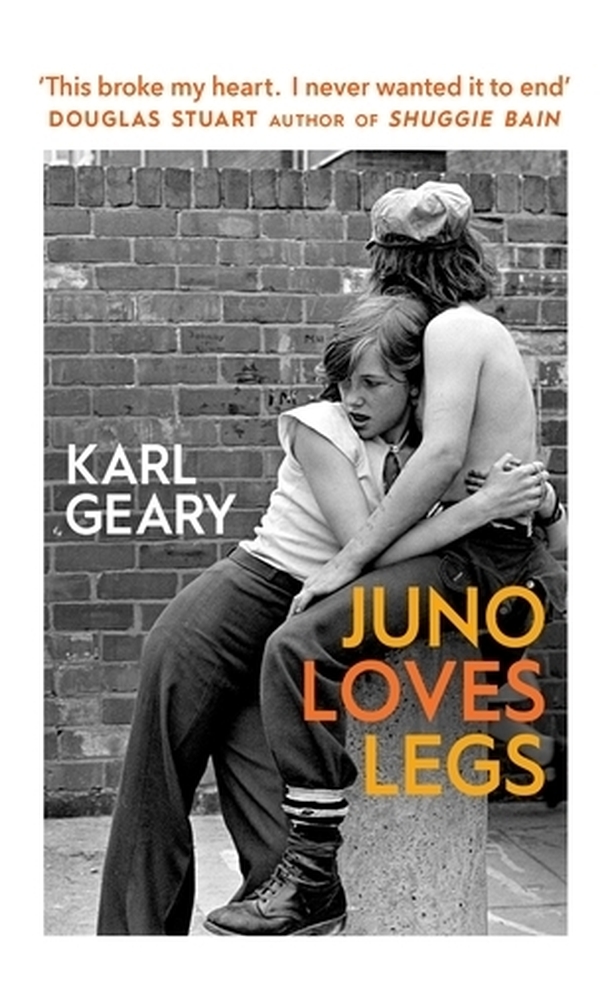 Juno Loves Legs is published by Harvill Secker