Ahead of shows in Galway and Dublin, playwright Christian O'Reilly introduces The Table, his new play for young people, which explores the impact of the Civil War through the resonant story of how a family can be divided.
---
I had been a fan of Branar Theatre Company for many years and loved bringing my kids, Cóilín and Fia, to their shows, which were always fun, magical and inventive.
I knew Branar's work was workshopped and devised by artistic director Marc MacLochlainn with a company of gifted performers and that the plays were ultimately scripted by Marc. In other words, the last thing they needed was an outside writer to come in and interfere with a creative process that was tried, trusted and produced consistently beautiful work.
So, when I told Marc I'd love to work with Branar, I didn't expect him to invite me into their world. But that's exactly what he did when he asked me to collaborate on an idea he had for a play called The Table. We met for coffee and he explained that he wanted to create a show for young audiences (8+) that used a table as a metaphor for the Civil War in Ireland.
I had no idea how we would create such a piece, but jumped at the opportunity, while secretly worrying that Marc had erred in bringing me on board and that I would somehow manage to 'break' Branar. But, supported by an Abbey Commemoration Bursary, we set to work. The Abbey Commemoration Bursary was a grounding influence as ours was named in memory of Billy Scott, who, aged 14, was killed by a ricocheting bullet that passed through his chest during the Croke Park Massacre on Bloody Sunday, November 21st, 1920. We felt a sense of responsibility to create a show that would honour Billy's loss.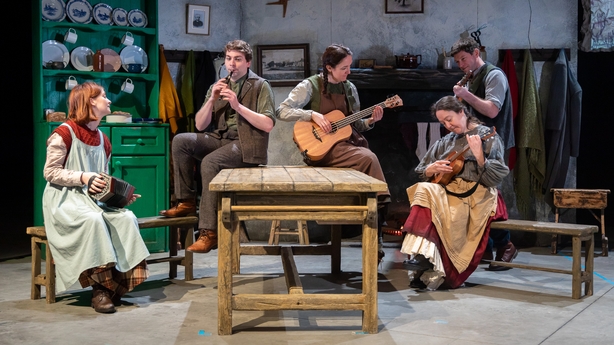 We studied the history of the War of Independence and the Civil War and began to discuss the challenge we faced – to marry metaphor, history, story and character in a piece of theatre that would work for young audiences. We also faced the challenge of doing something neither of us had ever done before – to collaborate with each other.
In terms of process, we agreed that we would brainstorm story ideas together, that I would script the play and that we would workshop the ideas and the play with his actors. Right from the start, his actors showed a willingness to try out our ideas and a fearlessness in challenging those ideas. They were creative, flexible and confident. And they kept forcing us to dig deeper.
The early drafts of the play struggled under the weight of Irish history. We had a fight over a table taking place within the context of the War of Independence – a metaphor existing in a reality with which it jarred. We had IRA volunteers on the run, Black and Tans with Cockney accents and an Irish father who had fought and died for the English in World War 1. We also had a table that presented us with a unique theatrical challenge – how could we use it to dramatically represent the key terms of the Treaty, i.e. Partition and the Oath of Allegiance?
We talked about breaking the table in two or perhaps cutting off one of its four legs. Would that be a way to represent Northern Ireland? Or could we better represent it within the table if we decided it had once been a sacred Irish tree cut down by an English landlord who then carved the shape of the tree into the table? Would the act of carving the shape of the tree give the landlord a generational claim to it?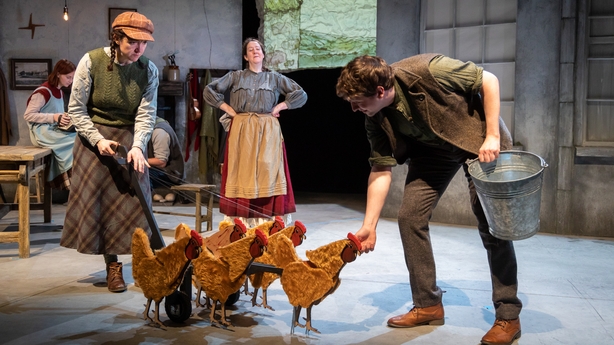 At a certain point I began to worry that this was a riddle beyond us. Was Marc regretting he ever brought this interloper into his space? But, where I was neurotic to the point of paranoid, Marc remained calm, cheerful and optimistic – and open to all ideas. One of those ideas was a chicken called Seamus. Another was a really bad song.
Once we liberated the chicken and trusted the really bad song, the play began to take shape. I stopped trying to shoe-horn characters into metaphor. We moved away from the actual history and closer to parable. We jettisoned one-note English characters and focused instead on the impact of division within an Irish family who care as much about their table as they do their homeland. Abbey dramaturg Jesse Weaver guided us throughout, urging us to pare it back and simplify.
Once rehearsals started, the actors challenged and improved the material and improvised moments far richer than my dialogue. We played volleyball and keepy-uppy and had cake on Fridays. When composer Michael Chang began to add his music to Marc's direction, I saw the heart of the play and felt it come alive.
Soon it will be ready for audiences, including the two people I longed to write for, Cóilín and Fia.
The world premiere of The Table plays at Town Hall Theatre, Galway until 18th Feb before transferring to The Peacock stage at the Abbey Theatre from 1st - 18th March (excluding St Patrick's Day) - find out more here.