Playwright Shane O'Reilly introduces Gold in the Water, his 'quirky, funny, life-affirming spectacular for musical theatre lovers, thrill seeking pet owners and audiences young and old!', coming to theatres in Dublin and Bray this February.
---
Gold in the Water has been simmering away for seven years.
In 2015, I decided that I wanted to write a musical. I mean, it couldn't be that hard right? I had the seed of an idea; I wanted to write about two men and a goldfish. I was dipping my toe into exploring parenting at a time when the country was hotly debating rights around same-sex marriage and parenting.
I knew I wanted the project to be something playful. I wanted this show to be inclusive when it came to the audience, it was important to me that the musical was accessible to both children and adults as the key stakeholders in any parenting dynamic.
I approached composer Denis Clohessy and my partner Paul Curley, who is also a writer and performer, to spend a couple of days with me working through the idea in Galway in 2015. I put a basic story on the wall in the studio and we began to create songs and flesh out ideas around that story. Seven years, numerous drafts and multiple developments later we are now in rehearsal for our brand new musical Gold in the Water.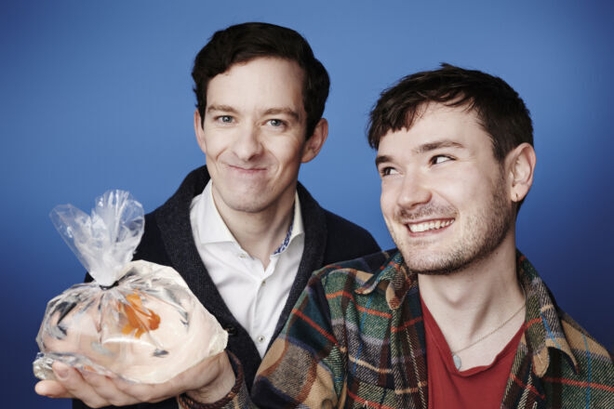 The story is about a married couple, Bart and Harvey who discover a mysterious goldfish on their doorstep one morning and have to figure out what to do with it. They are surrounded by their friends Tom and Sandra – who have just had quadruplets; Deirdre, a children's entertainer in search of some meaning in her life and Rosaleen, Bart's mother who has a little more parenting to do with her adult son.
The musical is a wacky comedy, the tone of which work is very playful and wild with a suite of really dynamic, funny and moving songs. Our story also has an antagonist - a Pet Shop Owner, a very righteous woman who has developed a keen dislike for people and holds Bart and Harvey to a high standard in their attempts to care for this fish. There is also a tap-dancing rabbit, a singing mouse and a slightly depressed terrapin thrown in for good measure. What's not to love?
This project has had an enormous amount of support, enthusiasm and belief showered on it as it developed and formed over the last seven years. Many artists have generously fed into the creation process, without whom we would not be where we are today.
I cannot wait to share this comic and heartfelt new musical with audiences this February and March at Mermaid Arts Centre and Project Arts Centre.
It's going to be Fa-fa-Fa-fabulous!
Gold in the Water is at Mermaid Arts Centre, Bray, Wicklow, from Saturday February 25 – Sunday March 5 - find out more here - and at Project Arts Centre, Temple Bar, Dublin from Friday March 10 – Sunday March 26 - find out more here.